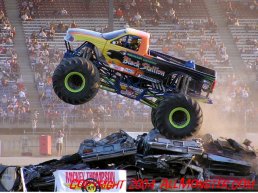 Trey Myers was kind enough to fill us in on what the Black Stallion/Iron Warrior team has been up to lately, and they have been very busy! With the news of the team purchasing the former American Dream chassis, Myers elaborated on what the team's plans are for it.
"We plan on making that truck an excellent one," said Myers. "This year is its 16th birthday (the chassis was the former Taurus Racer), and when it was originally built, it was built as the best truck out there. We want to return it to being that."
Myers also mentioned that the truck is currently in the shop waiting to be powder coated, and that the team will insert new shocks, possibly the same setup as the current Black Stallion, as well as a "big motor" that is used on Black Stallion.
The team was headed to their first show in Rochester, New York as we spoke with them, and Myers is excited about driving Iron Warrior full-time there.
"I am definitely looking forward to it. We updated some things on Iron Warrior and redid the shocks a bit. It has the same combination but is set up better, and I hope it all works out," he said.
The team also plans on their Monster Motorsports promotion company expanding for the summer season. We thank Trey Myers and the entire Black Stallion/Iron Warrior team for their time.