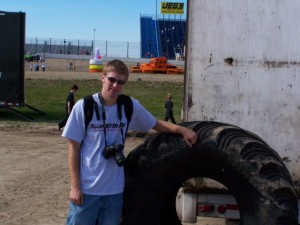 Name:
Robert Haught
E-mail:
rhaught@allmonster.com
Phone Number: 
513-383-9293
Hometown:
Park Hills, Kentucky
Specialties:
Founder, Photographer, Columnist, Web Design, Graphic Design, Crew work, Videography…you name it, we'll do it.
Favorite drivers are:
Too many to list, but if I had to pick a driver to run any time, anywhere, it would be Charlie Pauken.
Quote: 
 "Monster trucks are a lifelong passion of mine, and I'm sincerely grateful to have a chance to share that passion with others. We will continue to provide unbiased coverage of everything monster trucks. Thank you for your support."
Name: Dustin Hart
E-mail: dhart@allmonster.com
Hometown: Nags Head, North Carolina
Specialties: Photography, Web Design, and my flowing locks
Favorite drivers are: Carl VanHorn, Charlie Pauken, Adam Anderson, Ryan Anderson, Jon Zimmer, Jeremy Slifko, Steve Sims, Morgan Kane, Paul Cohen
Quote: "ZING!"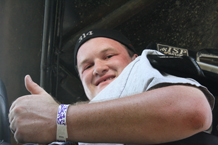 Name:
Ed Hoormann
E-mail:
Ed@allmonster.com
Hometown:
St Louis, Missouri
Specialties:
Web design, Photographer, Videographer, Reporter, Btl Co-host, crew work.
Favorite drivers are:
Jim Kramer, Jon Zimmer, Carl VanHorn, Derick Anson, Larry Swim and Dan Runte.
"Go big or go home live it to its fullest"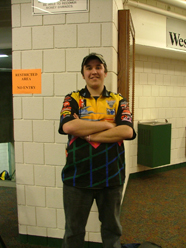 Name: Jeremy "The Dude" Puglisi
Hometown: Wheeling, Wv
Specialties: Photography, Public Relations, Web Coding, Audio engineer
Favorite drivers are: Marc McDonald, CVH, Dan Patrick, Trey Myers
Quote:

"If you don't change the normal you never have the cutting edge"

– Lyle Hancock 
Name: Josh Rhodes
E-mail: jrhodes@allmonster.com
Hometown: Ramsey, IL
Specialties: Photos, Interviews, Articles
Favorite drivers are: Dennis Anderson, Pablo Huffaker, Charlie Pauken, Jon Zimmer, Rod Litzau, Steve Wilkie, Mark Hall, Jim Koehler, Jeremy Slifko, Frank Krmel, Damon Bradshaw, and Dale Earnhardt
Quote: "We turned her over, shes over. . .Thats what the people want, thats what they got, and i got a tore up truck!" Dennis Anderson.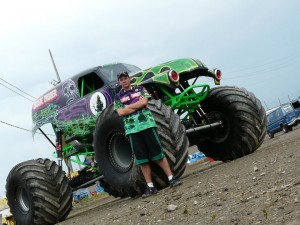 Name: Steve Parry
E-mail: sparry@allmonster.com
Hometown: East Greenbush, NY
Specialties: Photographer, Reporter, Coverage
Favorite drivers are: The Andersons, Andy and Jeremy Slifko, Charlie Pauken, Steve Sims, Jim Koehler
Quote: 

"Thank you to all the drivers, teams, and promoters for everything they do to make this motorsport truly exciting and unique!"
Kyle Carr
E-mail-kcarr@allmonster.com
AOL Instant Messenger-snowjunki46
Photographer, Videographer, Reporter
Name: Chris Kaelin
E-mail: ckaelin@allmonster.com
Hometown: Granite city, il
Specialties: Photos, BTL contributor and occasional host
Favorite drivers are: Dan Runte, Dennis Anderson, Tom Meents, Mark Hall, Jon Zimmer
Quote: From Steve Jobs, "Stay hungry, stay foolish"
**We would also like to thank each and
every person who has submitted photos and/or information for AllMonster.
You are a great help and we always appreciate it. Interested in joining
the AllMonster team? E-mail photos@allmonster.com!*
**Question about the Beyond The lens podcast please email btl@allmonster.com**