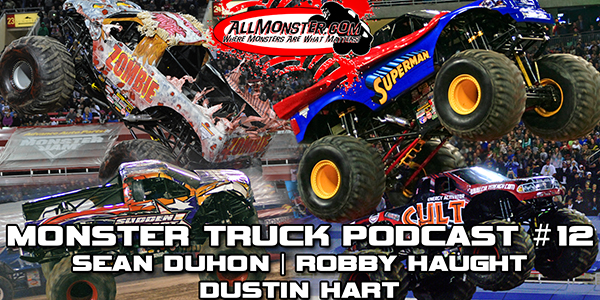 The Monster Truck Podcast has returned for episode 12, this time featuring our good friend Sean Duhon. Anytime you get to talk with Duhon its sure to be a good time and that was certainly the case for this episode. We discussed Duhon's transition from his career in law enforcement to driving Monster Trucks as well as his future in drag racing with his awesome new ride named Not So Funny. We also talked about his time with Sudden Impact Racing, Monster Jam, and becoming the latest super substitute driver in the industry. A big thanks to Duhon for taking the time to join us and we hope you all enjoy this episode as much as we enjoyed making it.
Make sure you subscribe to your favorite service to keep up with the latest Monster Truck Podcast updates. You can find us on YouTube, iTunes, the Google Play Store, or right here on AllMonster.com for all your MTPC needs. Don't forget to leave us some feedback on this edition of the Monster Truck Podcast and what you would like to hear in the future. Drop a comment here or on the video to voice your opinion and let us know what you're interested in.  We love hearing from everyone and any input is greatly appreciated. Don't forget to follow us on our social media profiles by giving our Facebook page a like, or following us on Twitter and Instagram.
If you're interested in keeping up with Sean Duhon and his latest adventures you can find him online as well. Check out Duhon on Twitter, and Instagram to for more on his upcoming drag racing and monster trucking exploits. Thanks again to Duhon for joining us and thank you for listening to the Monster Truck Podcast.
Podcast: Play in new window | Download