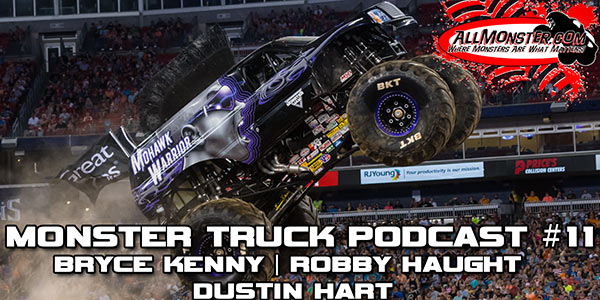 We're very excited to be back with the Monster Truck Podcast, this time featuring Bryce Kenny who pilots the Great Clips Mohawk Warrior. We discussed a variety of topics with Kenny like his recent events in East Rutherford and Nashville. We also touched base on his family roots in drag racing and his career as a Top Fuel Dragster racer. As Kenny is a relative newcomer to the sport we also talked about his time at Monster Jam University and how he's adapting from the transition of drag racing, to monster truck racing. We had a great time talking with Bryce Kenny and we hope you'll enjoy listening to this edition of the Monster Truck Podcast.
Be sure to subscribe to our YouTube channel for all the latest updates on the Monster Truck Podcast. Leave us a comment here or on the video and let us know what, or who you would like to hear on the Monster Truck Podcast next! We're always looking for new and different topics or people to discuss. You can also leave us feedback on our social media profiles by giving our Facebook page a like, or following us on Twitter and Instagram.
Speaking of social media, don't forget to follow Bryce Kenny for the latest on him and the Great Clips Mohawk Warrior. Check him out on Facebook, Twitter, and Instagram today.
Podcast: Play in new window | Download