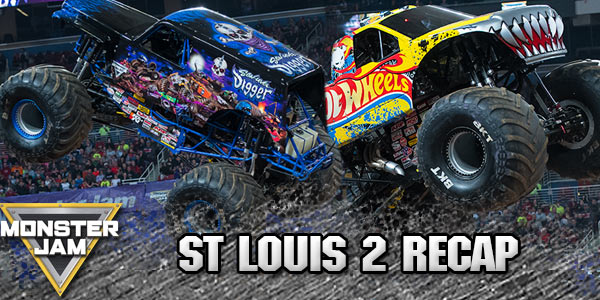 As Monster Jam made a return stop to St. Louis' Dome at America's Center they brought along 14 of the top trucks along to battle for top honors. The weekend would see a return of Chicago Style racing to a North American Monster Jam event for the first time in a year along with some different freestyle obstacles. As if that wasn't enough the mysterious driver behind Doomsday would finally be revealed during the night's action. Once the event came to a conclusion two familiar faces would be on top with Ryan Anderson in Son-Uva Digger and Scott Buetow in Team Hot Wheels Firestorm emerging victorious.
As teams arrived on Thursday the obvious story became the track. After the better part of two seasons seeing mostly Jersey Style racing courses and accompanying freestyle jumps, this weekend's floor saw a return to Chicago style racing with freestyle jumps reminiscent to the hybrid floors seen in arenas. The huge floor of The Dome at America's Center meant that the turns for racing would be very wide and add a bit of an extra challenge to a normal Chicago style course. The drivers first time on the track would be in Friday afternoon's practice where some drivers struggled to find the right line, while others figured it out quickly. Tom Meents and the brand new Max-D #8 would post the fastest practice time at a 20.683 seconds and be the only driver under 21 seconds. Adam Anderson and Grave Digger would be second quick with a time of 21.086 seconds which was .403 off from Meents.
Qualifying on Saturday night saw some fast passes that were on the edge but it would be Damon Bradshaw and Monster Energy taking the top spot in the final pass of qualifying. His time of 20.591 seconds was a huge improvement over the 22 second pass he made in practice the night before. The Anderson brother's were hot on his heels though with Adam putting up a 20.888 second time and Ryan turning in a 20.906 second pass. The most exciting moment from qualifying would come from Becky McDonough and El Toro Loco who had her hands full after clipping a turning car in the final turn. McDonough's truck pitched over hard to the right onto two wheels, but McDonough would manage to wrangle the crazy bull back onto all four tires before coming to a stop in the pits.
Round one saw all of the top seeds moving on with victories with Monster Energy defeating Zombie, VP Racing Fuels Mad Scientist knocking out Hot Wheels, Son-Uva Digger winning over Lucas Oil Crusader by just one tenth of a second, and finally Grave Digger taking out Doomsday. In the semi-finals Bradshaw looked fast once again as he took out Mad Scientist with a time of 20.682 seconds. The next race would be a battle between the Anderson brother's as Adam and Ryan squared off. It would be a squirrelly race for both with Adam spinning out early, while Ryan would find himself on two wheels after clipping a turning car. Ryan was able to keep it together enough to complete a pass while Adam knew he was defeated right away. With Ryan's slow time in the semi's, Bradshaw got lane choice in the final round and picked his favorite in the left lane. Ryan would get the early lead and string together his fastest run of the night when it mattered most as he nailed the final turn to pick up the victory with a time of 20.431 seconds, defeating Bradshaw by four tenths. With the racing win now in his hands Ryan would set his focus on the Double Down by picking up the freestyle win as well.
Freestyle would be a tough challenge on this night with a number of early breakages and rollovers. The drivers that could keep their trucks together and fill the clock would stand a good chance of winning, but it would take a big wow moment to take the top spot. Bari Musawwir and Zombie set the bar early with a strong run featuring some great slap wheelies and some big air hits to get the competition going. Team Scream's Brad Allen and Brutus followed up with some big air of their own but a rough landing sent Brutus into a barrel roll to end their run early. Bailey Shea and Scooby Doo had the hometown crowd on their side and pulled off an awesome pogo wheelie, but ended up on their side too early to compete for the lead.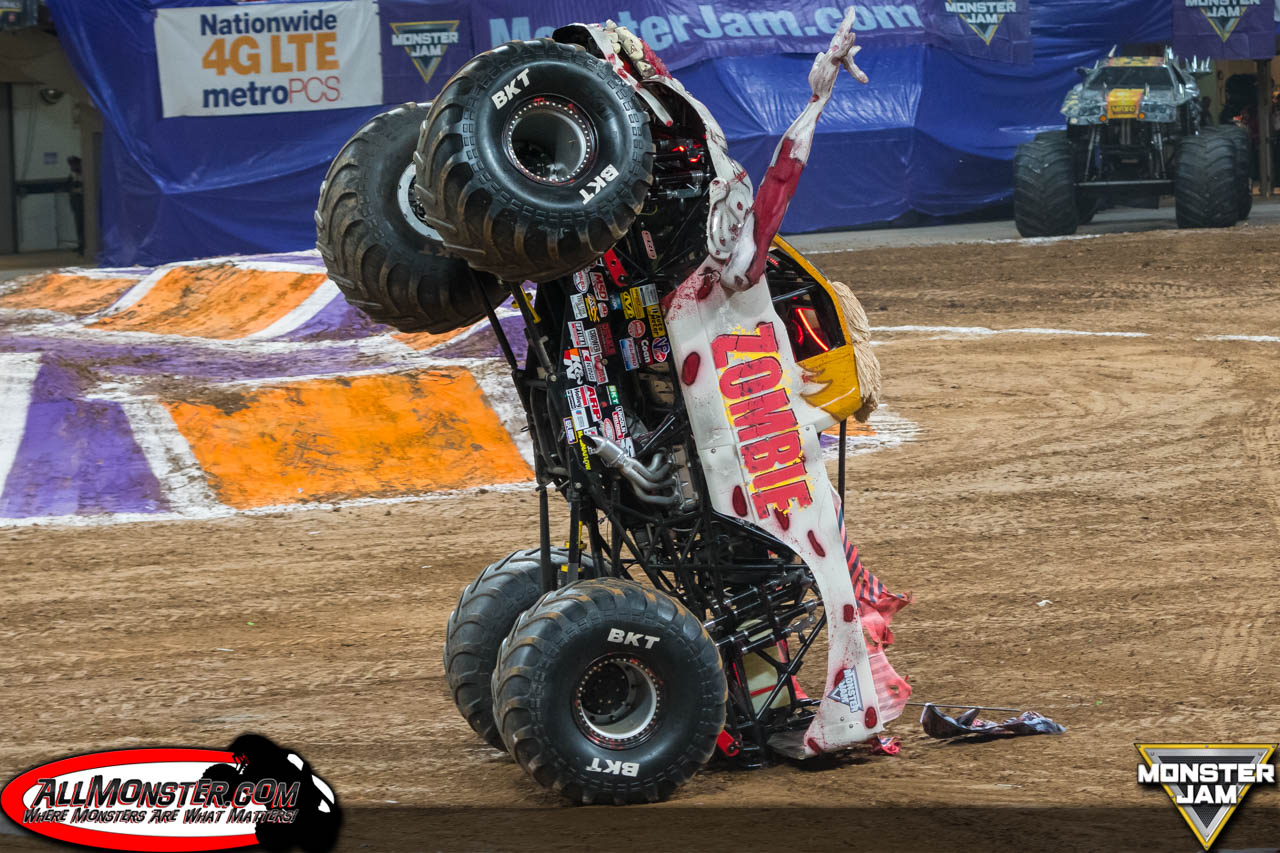 The next truck to take to the track would be the mysterious Doomsday with rumors flying around that the driver would be revealed on this night as the truck would be making its final appearance. The run opened up with some nice air and great momentum as Doomsday tore across the floor shedding body panels and pulling off a nice slap wheelie. In the final 30 seconds of its run Doomsday lined up for the backflip ramp and went for it, but wasn't quite lined up straight. The result saw the truck go up, but not get the rotation needed to get a backflip. It would be a brutal landing on the front of the truck, but the driver of Doomsday would emerge unharmed. As he stepped out of the truck he finally pulled the helmet off to reveal himself,  Colt Stephens, to be the driver of Doomsday. An excited Stephens shared with the audience that he would be taking over the FS1 Cleatus truck for the 2017 season. Along with the excitement of the reveal, Stephens and Doomsday would take the early lead in freestyle.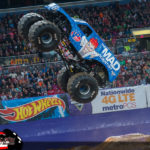 Devin Jones and the Barbarian would be the next to freestyle, putting together a respectable run including some nice jumps before transmission problems would hamper their efforts. Lee O'Donnell and the VP Racing Fuels Mad Scientist had a good run of their own going with some big air and a nice save, but couldn't get enough going to impress the judges enough to take over the lead. Both Becky McDonough and Linsey Weenk would have a rough time in freestyle as both drivers would rollover after just one jump in freestyle.
Scott Buetow and Team Hot Wheels Firestorm have been on a roll of late in freestyle and St. Louis would be no exception. Buetow got some big air early along with a nice sky wheelie to get the run going. After a few more jumps Buetow lined up for the backflip ramp and stuck a clean backflip to the crowd's delight. Buetow would follow that up with another big air launch and a quick save before rolling over turning around on the other end of the floor, leaving 20 seconds on the clock. The judges saw enough in their eyes and awarded Buetow with the lead and a score of 36.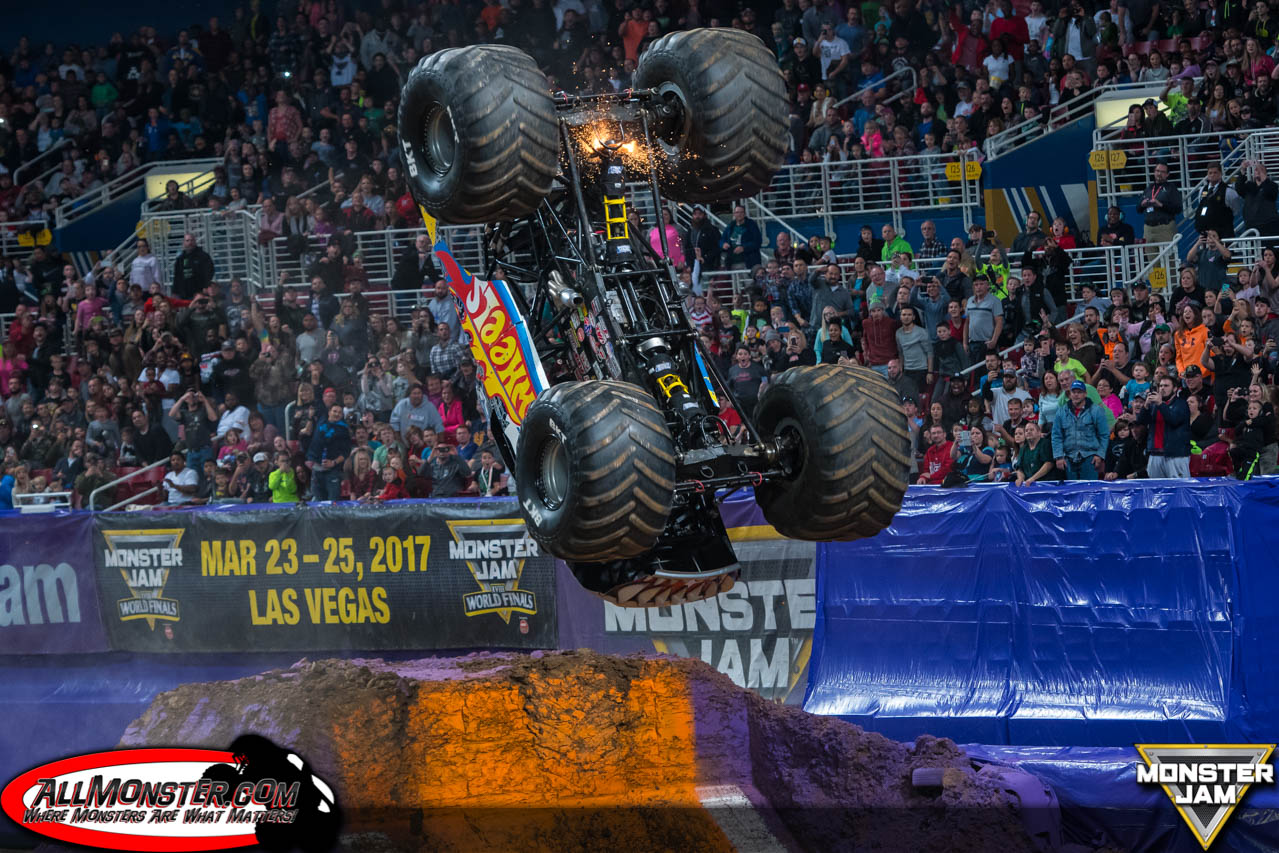 Next out would be Ryan Anderson and Son-Uva Digger who would lead a serious charge to try and take the freestyle lead away. Ryan opened up with a big air assault with two big jumps right away, before pulling off a nice slap wheelie of his own. The big air would continue as Ryan tore across the floor. A bad bounce would send Son-Uva Digger onto the right side tires but Ryan was able to save the truck, but break a rear axle in the process. That wouldn't stop Ryan though as he battled onward with a broken truck, bicylcing it on two wheels across the floor. As the clock struck zero Ryan would park the truck and salute the crowd before awaiting the scores from the judges. Despite his efforts, it wasn't enough as Ryan would be two points short with a score of 34.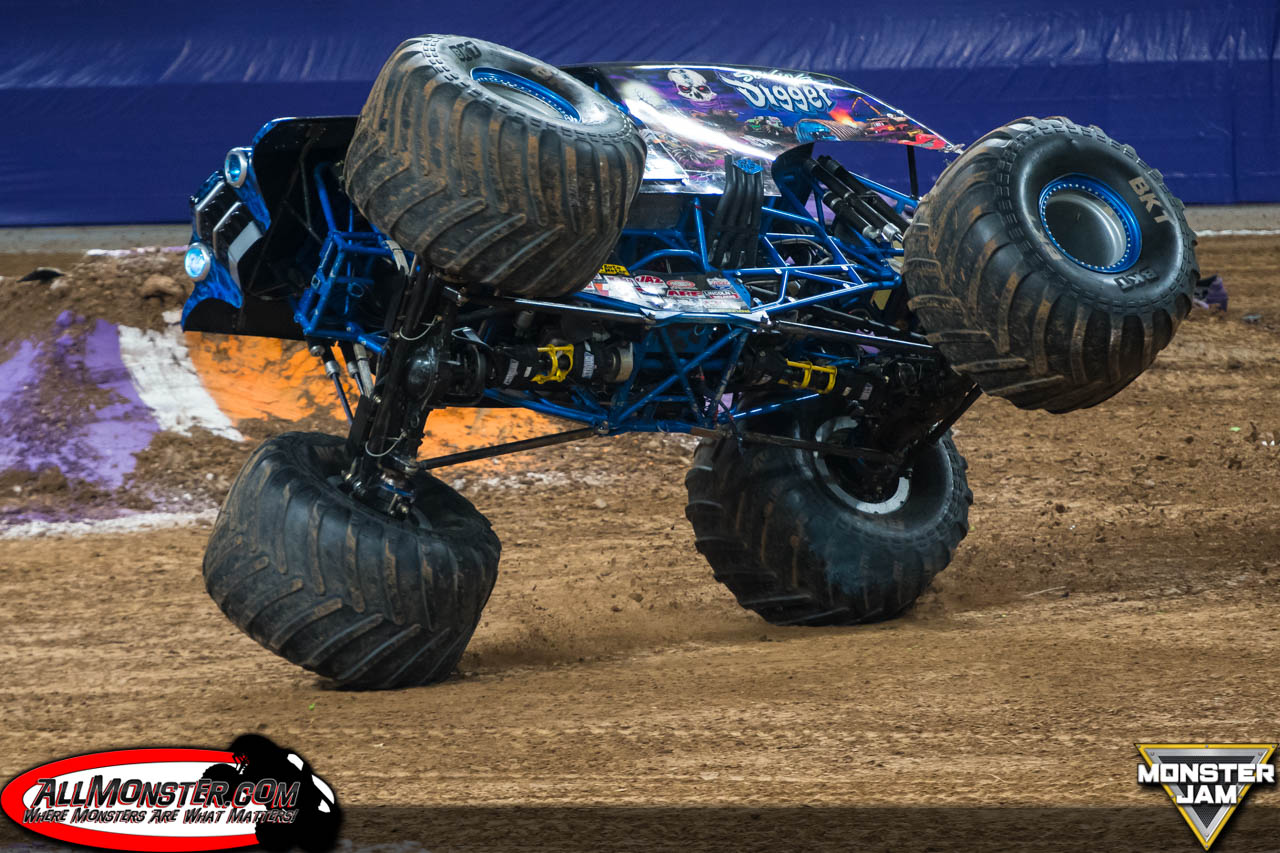 The Monster Energy machine came out with a flying start of its own but hard hit early in freestyle would break the swaybar on Bradshaw's truck. While they tried to continue on with a broken truck, the Monster Jam tech officials made a wise call in shutting of the truck as they spotted the sway bar arm swinging freely. Bradshaw was visibly upset but it was the right decision for the sake of safety.
Tom Meents and Max-D picked up the freestyle win this past February in St. Louis and were looking to repeat on this night. Meents put in some good jumps to start before working in some bigger air jumps in the middle of his run. About the halfway point of his freestyle, the truck started to develop rear steering issues but that wouldn't stop Meents. Nearing the end of his run Meents attempted a backflip but the truck wasn't quite straight and went into a crooked rotation on the backflip with the front of the truck hitting the top of the ramp and rolling the truck over. A determined Meents gave it everything he had to upright Max-D and would almost get it back onto all four's but momentum would put the truck over again to end their run. It was a strong effort from Meents but not enough to top Buetow on this night as the judges would score Max-D with a total of 30 points.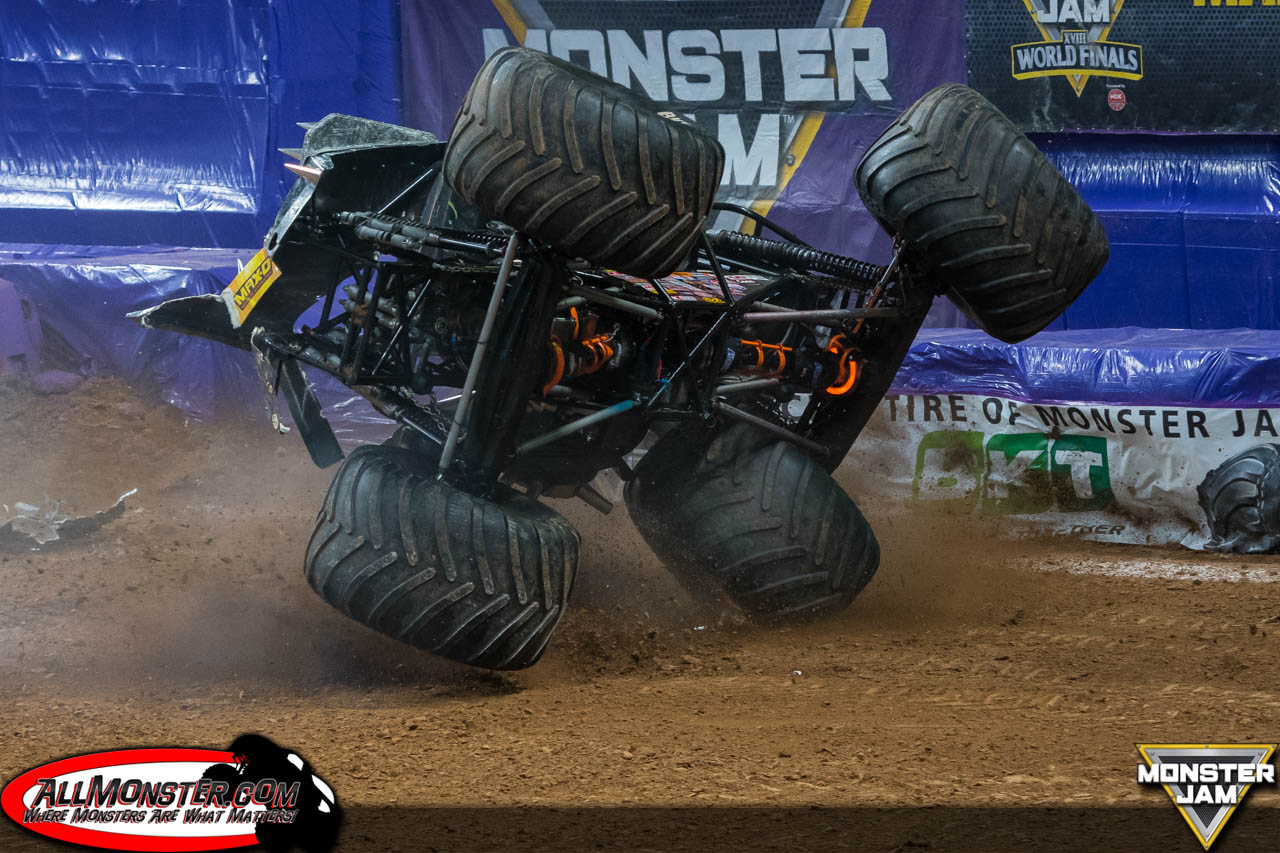 Last out would be Adam Anderson and the Grave Digger to try and knock Buetow from the top spot. Adam also started off his freestyle run with some big air and good momentum to get things going. Unfortunately for Adam he would case a jump, sending the truck over onto its side and eventually up onto its nose. Adam tried to save it but luck wasn't on his side on this night with the early rollover taking him out of contention for the win. It would be Scott Buetow and Team Hot Wheels Firestorm taking another freestyle victory on the year.
With St. Louis in the books many of the same drivers are setting their sites on Minneapolis as Monster Jam returns to the city for the first time in three years. It will be their first visit to the all new US Bank Stadium and they'll be breaking it in with two huge shows next weekend. Both Ryan Anderson and Scott Buetow will be looking to carry momentum into next weekend while many others are looking for redemption. It should be an exciting time this coming weekend in Minneapolis.