The Circle K Back To School Monster Truck Bash at The Dirt Track at Charlotte Motor Speedway is once again upon us where ten of the best independent monster trucks in the industry will battle it out on one of the biggest and most exciting courses every year. The event has a storied history bringing plenty of racing thrills like no other event, as well as some incredible freestyle action by some of the titan's of the sport. This year looks to be no different with the strongest field of trucks in recent memory coming to North Carolina's Queen City to compete in this prestigious event.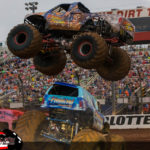 One of the most unique aspects of the Back To School Monster Truck Bash is the racing course. It's one of the longest tracks on the circuit and one of the only ones to feature a crossover or over-under jump where competitors will jump over each others lanes every race. It's an exciting moment to see a truck not only jump over another during a race, but to also clear the 70 foot gap from the face of the jump to the landing ramp. The wide sweeping turns and many jumps also keep the trucks unsettled and provide a big challenge to the drivers.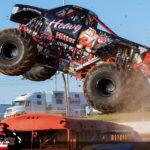 Last year the biggest challenge came from the newest addition to the racing course, were the buses at the starting line which caused plenty of wild moments throughout the evening. This year we understand the crossover course will be returning yet again, but with some changes that Brian Manson and the MTX Event Production team have yet to reveal. We're certain that whatever they have up their collective sleeves, you can bet on another thrilling racing course to be apart of this year's event.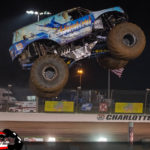 While the racing at the Back To School Monster Truck Bash gets a lot of attention, the freestyle portion of the event is certainly nothing to scoff at, as it delivers plenty of thrills of its own. Some of the biggest obstacles anywhere are seen on the infield of The Dirt Track at Charlotte Motor Speedway with plenty of huge dirt jumps, buses and cars for the trucks to tackle in their runs. The half mile dirt oval track provides plenty of room for drivers to get wild in freestyle and as they can get big air and work in moves like slap wheelies and donuts.
As always the field of trucks for the Back To School Monster Truck Bash is one of the toughest around and this year we've seen that field expand by two with this year's competition seeing ten trucks in the mix. Last year's defending racing championship winning truck will be returning, however there will be a different driver behind the wheel as Larry Swim pilots Bigfoot 21 following Dan Runte's retirement earlier this year. Swim has performed well in 2016 in taking over the lead driver role at the Bigfoot camp picking up several wins including a recent racing victory in Bristol. Swim also has a bit of a wild streak and could be someone to watch out for when it comes to freestyle.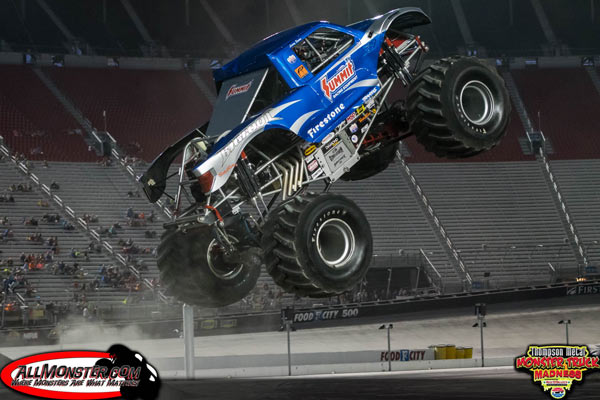 Reigning freestyle champion Steve Sims Sr. and the Stone Crusher once again return to the Back To School Monster Truck Bash with hopes of defending their title. Sims has had some great success at this event in the past including a sweep of racing and freestyle in 2012. Sims hasn't duplicated that feat but he has come close with final round racing appearances and a freestyle win. Last year Sims ran the Stone Crusher ragged with big air and numerous crossthreads to take the victory narrowly against the likes of his son in Hooked and Jim Koehler in Avenger.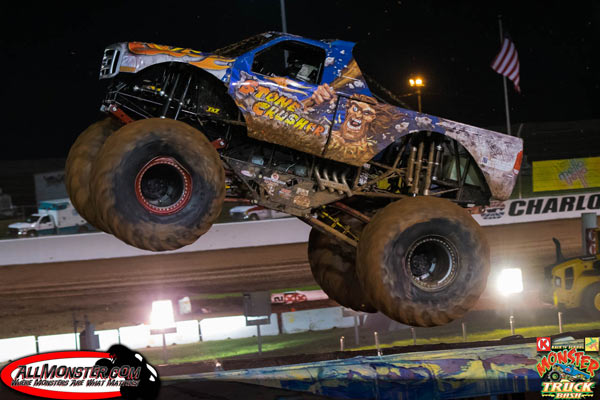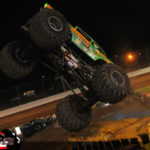 Speaking of Koehler, he's also had some success in Charlotte as he's picked up multiple freestyle wins at the Back To School Monster Truck Bash, with is most recent win coming in 2013. You can never count out Koehler for a freestyle win as the two-time Monster Jam World Finals Freestyle Champion has what it takes to put on thrilling performances every time he takes to the track. In racing though Koehler may be able to sneak up and surprise some folks, as the Avenger is a tough truck that can withstand the beating the course delivers, and Koehler has as much experience as anyone on this course.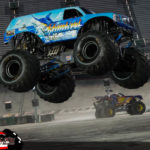 For the rest of the field, it's a batch of relative newcomers to Charlotte either in their first time competing in the Back To School Monster Truck Bash, or returning for their second year. While Hooked has become a fan favorite in Charlotte, this will be Bryan Wright's first time piloting the truck in this event. Wright is no stranger to big challenges though and could be a top finisher in both racing and freestyle. He's smooth and consistent driver in racing who typically doesn't get himself into much trouble which is crucial on this track. In freestyle he can certainly burn it down and run with the best of them as we recently saw in Bristol.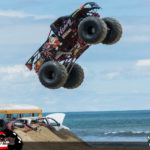 Derick Anson and the Heavy Hitter will be making their second trip back after a strong showing in 2015. Last year Anson's racing efforts were cut short after a cut tire in round one, but a quick change over to a borrowed tire from teammate Vern House and River Rat, he was able to put together a great freestyle run with some big air and he took at the RV on the infield. Anson is a fierce competitor who isn't afraid to let it all hang out to get wins in racing or freestyle. Recently Anson has made it into the final round at two major events in Mt. Pleasant and Bristol and you can bet he'll be hungry for the racing win this year. In freestyle, he's a wild card who will push his truck as hard as anyone like we saw this spring in Virginia Beach where he picked up two wins over many of the same competitors coming to Charlotte.
The other entry from Anson's team is the Dawg Pound and Vern House. Last year House had a solid racing showing with a middle of the pack qualifying time and a round one racing victory before falling to Runte and Bigfoot. As mentioned before, House would loan a tire off the truck to his teammate in order for them to freestyle, sacrificing his own chance to run. House has shown he can compete in the racing bracket, but when it comes to freestyle look for the priority of the team to go to the Heavy Hitter. Regardless you can expect a good showing from House and Dawg Pound.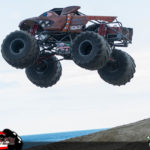 Brad Allen will be making his first visit to Charlotte since 2011 to compete in the Back To School Monster Truck Bash. A lot has changed in those five years as Allen has moved into Brutus and gained a lot of experience since then. The truck has a winning pedigree with racing win in 2010 from Chris Bergeron so you know it can hang with the competition. In freestyle Allen continues to step up his game going bigger and gaining momentum while learning from his boss Jim Koehler. Allen could be a bit of a sleeper pick to win this weekend.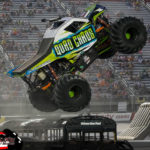 The DCT Powersports camp will be making their first apperance in the Back To School Monster Truck Bash this year bringing their awesome looking rides down to Charlotte. Aaron Cain and Quad Chaos has looked strong throughout 2016 and recently picked up a big freestyle win in Bristol and was able to make the semi-finals of the racing bracket there as well. Throughout the year he's had many bright spots in freestyle picking up wins on the Toughest Monster Truck Tour series with some big air and great momentum. You can expect Cain and Quad Chaos to bring their A-Game to Charlotte as they battle for the win.
Jerry Beck's flying dump truck known as Dirt Crew has had some tough luck with breakage when we've seen them this year but when the truck has been running well, it's been a tough competitor. The challenge for this team will be seeing how quickly they adapt to the racing course, as they'll certainly be able to hold their own in freestyle. It hasn't earned the nickname of flying dump for nothing, as the bright yellow and orange Dodge has gotten some air time this year. The DCT crew aren't shy about letting the trucks fly.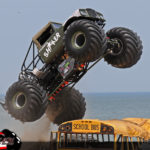 One exciting addition to the Back To School Monster Truck Bash field for 2016 is Ryan Disharoon and the beautiful Saigon Shaker. The truck built by the Metal Shop is a fantastic looking piece and a strong running truck. The young gun behind the wheel got a lot of experience this winter on the Monster Jam arena circuit and earned himself a spot in the Young Guns Shootout at the Monster Jam World Finals. Earlier in his career Disharoon had a bit of a bad habit of going too hard and pushing the equipment past its limits, but with his time spent in arenas this season he's learned how to mange the truck and show some finesse. He'll need to bring that knowledge gained in Charlotte as he gets to stretch his legs and run the Saigon Shaker on the biggest track they've ever seen. We'll be looking forward to seeing what they have in store for us next weekend.
We'll once again be in Charlotte covering the action from the Back To School Monster Truck Bash all day Saturday so be sure to follow us on our social media accounts for the latest updates. While you're there let us know your predictions for the event and who you think will take the racing and freestyle trophies. If you're in the area and haven't already gotten your tickets get them now right here!