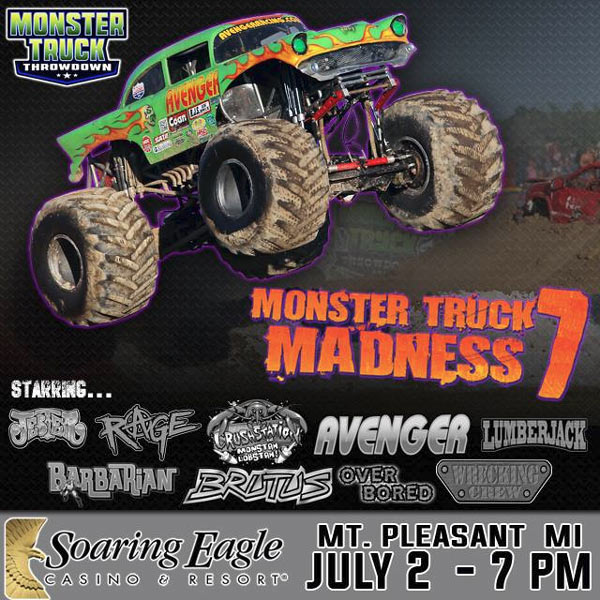 Our good friends at Monster Truck Throwdown put on some of the best independent monster truck shows around and one of their premiere events is the annual Monster Truck Madness at Soaring Eagle Casino and Resorts. This year ten monster trucks will duke it out for cash and bragging rights with trophies on the line for both the racing and freestyle competitions. The track is always unique and challenging for racing while featuring some of the biggest freestyle obstacles around. Here's the press release from Monster Truck Throwdown on the event.
Press Release From Monster Truck Throwdown
The biggest outdoor monster truck event in the Midwest takes place July 2, 2016 at the Soaring Eagle Casino & Resort in Mt. Pleasant, Michigan – it's MONSTER TRUCK MADNESS 7!

See Monster Truck Throwdown's heavy hitters do battle during racing and freestyle with money on the line!

Avenger – Jim Koehler
Barbarian – Devin Jones
Over Bored – Jamey Garner
Crushstation – Greg Winchenbach
Brutus – Brad Allen
Rage – Cory Rummell
Jester – Matt Pagliarulo
Wrecking Crew – Mike Thompson
Lumberjack
… and the debut of an all-new monster and a big announcement!

Tickets go on sale soon!

Gates open at 4, Pit Party at 5, Dirt flies at 7!
The line up for this year's event is stacked with some star studded talent from the independent monster truck scene. Jim Koehler and Avenger have dominated freestyle in years past with several titles to his name including the past several years. Koehler put together a big air assault in last year's freestyle competition to take the win away from Xtermigator's JR McNeal. Devin Jones and the Barbarian is always a threat to win freestyle, but racing has seen Jones shine the past three years in Mount Pleasant as he's made the finals each of those years, with a final round racing victory over Avenger in 2013. Breakage over the second jump cost Jones a shot at the final round win last year so you can bet he'll be pulling out the stops to try and get the win this year. Jamey Garner and Over Bored had a rough outing in the 2015 edition of the event but the 2014 Monster Truck Throwdown champion will be going all out in 2016 to make up for last year's showing. The Team Scream Racing camp will be bringing out the whole team this year to make sure the trophies stay in Michigan with Brutus, Rage, and Wrecking Crew joining the Avenger for this year's event. Cory Rummel debuted the Rage scheme during last year's event in thrilling fashion with a crazy freestyle that ended with a wild cartwheel rollover. Brad Allen and Brutus had what might be considered a career best freestyle in the event and will be looking to repeat once again at Soaring Eagle. New comer to the Team Scream Racing camp but not to the Monster Truck Throwdown scene is Mike Thompson who will be piloting Wrecking Crew this summer. Thompson has shown some bright spots in his driving behind the wheel of several trucks including the Crushstation and Lumberjack in recent years. The Bottom Feeder Motorsports crew will be making the trip from Maine to wreak havoc on the field once again this year as both the monstah lobstah Crushstation and Lumberjack will be a part of Monster Truck Madness 7. Greg Wichenbach always goes 110% at Soaring Eagle and won't be shy about putting the claws to work on the competition. Coming all the way from Florida will be Matt Pagliarulo and the Jester team. Pagliarulo looked strong throughout first quarter on the indoor circuit and will be looking to make a big impact on the crowd at Monster Truck Madness 7 this year. If you've never been to Soaring Eagle Casino and Resorts for Monster Truck Madness it is a must see event for any die hard monster truck fan. To get an idea of what to expect check out Monster Truck Throwdown's web series Inside Throwdown with episode one from last year's event.