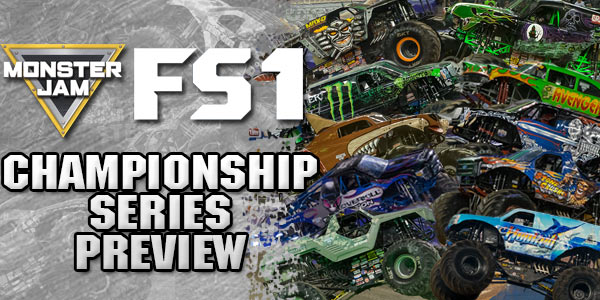 Following the success of last year's series, Monster Jam is returning the FS1 Championship Series for 2016. Last season saw some of the most interesting story-lines in recent Monster Jam history over the course of nine weeks as sixteen Monster Jam competitors battled it out for a series title and four automatic qualifier sports into Monster Jam World Finals XVI. This year's series will feature many of the same places and drivers, but a few new additions to the competition could make things very interesting for the next few months.
Perhaps the biggest change up in the FS1 series line up is that last year's champion Neil Elliott won't be returning to defend his title. The guy going in his place is certainly no slouch though, as it's none other than 11-time Monster Jam World Finals Champion Tom Meents. Another significant change is in the seat of Grave Digger. Last year's fourth place finisher Charlie Pauken won't be returning, however his replacement also has some strong credentials of his own. This year's team Grave Digger representative is Adam Anderson. With two Monster Jam World Finals Racing Championships as well as a freestyle championship to his name, you can bet expectations are high for Anderson in his first full season behind the wheel of Grave Digger since filling in for his father Dennis in 2007. Also recently announced, this year only the champion of the FS1 Championshp Series will be given an automatic berth into the Monster Jam World Finals, raising the stakes even higher to win at every event. With these big changes in mind, let's take a truck by truck breakdown of this year's Monster Jam FS1 Championship Series field.
Field of Trucks
Tom Meents | Max-D: 2015 was quite possibly one of the brightest years on Tom Meents' storied career. Over the summer Meents became a bit of a viral sensation with his attempts of a Frontflip in East Rutherford, New Jersey as well as his most recent attempt at the Double Backflip in Foxborough, Massachusetts. From purely a performance perspective Meents had a spectacular 2015 as he and the Max-D crew were on a tear in freestyle. Meents racked up freestyle wins in Detroit, Toronto, Orlando, New Olreans, El Paso (x2), and Santa Clara along with a runner up finish in Foxborough. Racing didn't quite go his way as Meents was held win-less on the stadium events in racing but did manage a final round appearance in Detroit. Going into 2016 you can imagine expectations are high and with the added challenge of a points based championship on the line that Meents is going to push that much harder for wins. Knowing that their is an Anderson to go up against every weekend also doesn't hurt in the motivation factor for Meents either.
Adam Anderson & Grave Digger: While 2015 may have marked an end of an era for Adam Anderson's time (or atleast for the time being) in Grave Digger The Legend, he was as competitive as ever the last year. Arguably one of the sports best and most well rounded talents, Anderson turned in several great performances in 2015. The year started off spectacularly for Anderson as he picked up Double Down's in both Miami and Anaheim to open up the year. He would follow that up with a freestyle win the following week in Houston. Unfortunately an injury sustained in Anaheim would keep Anderson out of the seat in Orlando, where crew chief and now #MoreMonsterJam East driver Cole Venard would fill-in for Anderson in his first ever event. Anderson took a couple weeks to get back into the winner's circle and took the racing victory in Vancouver. In Las Vegas Anderson's racing title defense was dashed by steering problems in the second round. It wouldn't take long for him to get back to winning as Anderson swept racing on the Path of Destruction with wins in East Rutherford and Foxborough. To finish up the year Anderson went down under to Australia where he picked up two more wins in Brisbane and Melbourne respectively. On the 2016 FS1 Championship Series Anderson has to be viewed as one of the favorites for the title. His racing prowess is second to none in the industry and he's among the sport's elite in freestyle. If we've learned anything from our time around Anderson, we know he loves a good challenge and the points series might just bring out another level of Anderson's performance on the new year.
Mike Vaters Jr. | Overkill Evolution: It comes as no surprise that a second generation driver has looked like a true natural talent behind the wheel of a monster truck like Mike Vaters Jr, but it might have been a surprise to many to see him crowned the Monster Jam World Finals Freestyle Champion so early in his driving career. While Vaters Jr. was already turning heads before his Young Guns Shootout win in 2014, it was in Las Vegas where he made such a huge leap onto the scene for many fans. The Young Guns Shootout victory came against some tough competition but he rose to the occasion and pulled off the victory when the pressure was on. That same weekend Vaters Jr. also proved he was a strong competitor when it came to freestyle as well. On a night where the majority of the field struggled just to survive, Vaters Jr. piloted Overkill Evolution to an 11th place finish with a great run that some might consider grossly under scored by the judges. The 2015 season saw more strong performances with Vaters Jr. making the final round of racing twice in Orlando and New Orleans. Once again though Las Vegas was where he made his mark with a career best performance in freestyle. That night Vaters Jr. proved that he and his truck were no fluke, they were 100% legit threats to win anywhere, any time. With the decades of knowledge acquired from his father Mike Vaters (Black Stallion) and Marty Garza it should come as no surprise that Overkill Evolution is a great piece. The truck performs well and as Vaters Jr. showed in Las Vegas, it's strong enough to take just about anything he dishes out. The question is can they deliver consistently on a points series like the FS1 Championship Series? The pressure is on Vaters Jr. to live up to some high expectations coming into this season and it will be interesting to follow their performance over the nine week stretch.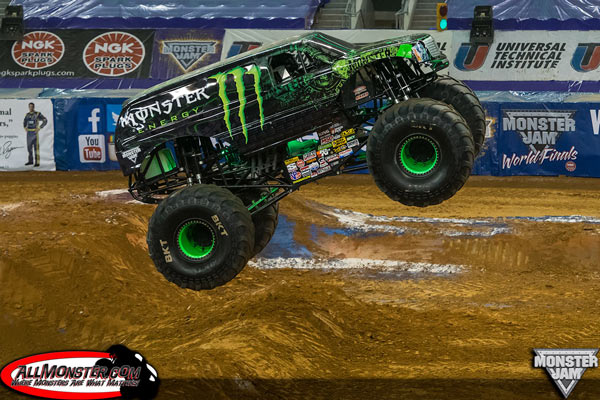 Damon Bradshaw | Monster Energy: As we chronicled in our article on last year's FS1 Championship Series, Damon Bradshaw is a deadly consistent performer and like Adam Anderson, one of the most well rounded driver's on the circuit. Bradshaw was a favorite to win every weekend on the 2015 series and racked up racing wins in Arlington and Indianapolis, as well as being the fastest qualifier five times on the series. Bradshaw's spectacular racing performances didn't end their though. He put down one of the fastest passes ever in Vegas during qualifying to earn second place. In East Rutherford Bradshaw would finish second in racing to Anderson and once again in Brisbane a few months later. The week after Brisbane he would take another racing victory for his final stadium win of 2015. When it comes to freestyle Bradshaw is a constant favorite to win. Despite not scoring a stadium freestyle win in 2015, you could make the argument that with different judges, he might've won several. With freestyle being a judged competition there's always going to be the element of subjectivity when it comes to scoring. Regardless of that you cannot deny Bradshaw can wheel a monster truck with the best. His freestyle in Foxborough over the summer was simply spectacular and probably one of the best in 2015 despite not getting the win. For the 2016 FS1 Championship Series Bradshaw has to be one of the early favorites to take the title by season's end.
Dustin Brown – Monster Mutt: Junkyard Dog: The 2015 season was a memorable one for Dustin Brown as he had a breakout performance and showed he was a deserving talent behind the wheel. Brown picked up three freestyle wins along with two obstacle course victories to launch him into third place in the season standings. Brown also had a strong World Finals performance in racing as he made it to the semi-final round. This year brings a new look to the Monster Mutt for Brown, but you can imagine he'll be chomping at the bit to take the title this year after nearly snatching it away at the final event in Syracuse.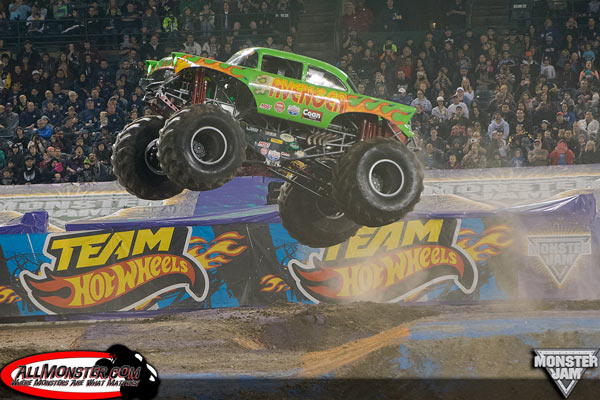 Jim Koehler | Avenger: The 2015 FS1 Championship Series was a frustrating experience for the two time Monster Jam World Finals Freestyle Champion. It seemed as though Mr. Excitement simply couldn't catch a break in 2015 with little mechanical gremlins sneaking up throughout the season. Koehler certainly grabbed some attention though with wow moments like his second place freestyle in Anaheim, and the completely ridiculous air he got in Detroit and Las Vegas. On the non Monster Jam circuit Koehler started to hit his stride and get back into the groove where he was running strong all summer long with some big freestyle wins. Admittedly Koehler may not be a huge threat to win racing every weekend, but that doesn't mean he doesn't try either. Don't overlook Koehler as he might just sneak in and steal a racing victory one night. When it comes to freestyle, you can never doubt Koehler and the Avenger. He's proven time and time again he's not afraid to go bigger than anybody and he can bring some of the more unique skill elements to the table as well with awesome wheelies and a lot of skill in saving the truck from bad situations. Also can't forget that Koehler has some backflip experience in his arsenal too.
Linsey Weenk | Lucas Oil Crusader: Last year it looked like Linsey Weenk was going to run away with the FS1 Championship Series title after just three weeks. The string of luck ran out right then as Weenk and the Crusader couldn't find the spark again on the series despite their best efforts. As competitive of a driver as Weenk is, that championship slipping away has probably been the biggest motivation for Weenk coming into the 2016 season. Undoubtedly Weenk has to be a favorite to win racing on any given week as he's proven himself to be a top level racer. While maybe not one of the odds on favorites to win freestyle, Weenk is certainly a strong performer in freestyle and has picked up his fair share of wins in his career. It will be interesting to see if Weenk rises to the occasion and challenges for the top spot on the standings.
Steven Sims – Pirates Curse: If you're a regular visitor you already know all the positive things we have to say about the second generation Sims in his time behind the wheel of Hooked, but this winter the young Sims will be piloting a new ride in Pirate's Curse. This could be an interesting prospect to follow as Sims might get more of a green-light than ever to go for it every time he hits the track now that he's piloting a Monster Jam fleet truck. The always aggressive Sims has shown plenty of promise as a freestyler with some wild performances and a win in Tampa last season, but that aggressive style has bit him in the past as a racer. While he's often fast, it's little mistakes that have kept him from picking up racing victories on the big stages. If Sims can balance that aggression with some finesse he could find himself in the hunt for the championship.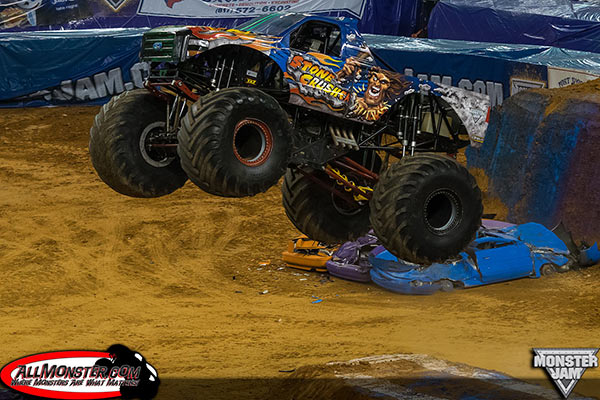 Steve Sims | Stone Crusher: The FS1 Championship Series in 2015 was perhaps more of a highlight as a dad, than it was as a driver for Steve Sims. His oldest son Steven picked up his first career stadium freestyle victory in Tampa and quickly made a name for himself on the big stages. The elder Sims didn't have a bad season by any means, but just didn't draw the attention like the younger. Sims did score a point with an obstacle course win in Indianapolis. Over the summer though Sims really hit his stride in some non Monster Jam events with big wins in Virginia Beach and Charlotte. Sims is one of those quiet but consistent performers who generally performs near the top and can very easily sneak in and steal some wins. He's pulled off major stadium wins before and it's certainly possible he can do it again.
Mike Vaters | Black Stallion: Much like Steve Sims, Mike Vaters was a proud papa in 2015 as he saw his son Mike Vaters Jr. win the Monster Jam World Finals Freestyle Championship. As one of the sports longest running competitors and a Hall of Fame inductee, it's safe to say Vaters has learned a thing or two about how to drive a monster truck. With that in mind, comes a harsh reality of being an independent truck owner in this sport, sometimes there's an A truck and sometimes there's a B truck. With his son defending the freestyle title this year, it's probably not too far-fetched that Black Stallion may be the B truck in this duo. Simply put, it's smarter for the team wallet if only one truck runs the risk of getting wadded up every weekend instead of two. With that in mind, Vaters is a competitive guy and he wants to win whether it's a sixteen truck stadium show, or a two truck exhibition. It wouldn't be surprising to see Vaters be a strong competitor in racing on a weekly basis.
Chad Fortune | Soldier Fortune: Chad Fortune has had an interesting career in monster trucks, starting from his time as the spokesperson of NWO what now seems like eons ago, to now having over a decade of driving experience. Over the past few years Fortune has really started to come into his own as he transitioned from the older Patrick chassis design into the newer CRD/In House type of truck that the Monster Jam fleet has moved to. Fortune has shown improvements in consistency as a racer and in freestyle as well. We expect solid performances from Soldier Fortune in 2016 as Fortune is generally a middle of the pack performer with the occasional break out performance of his own.
David Smith – King Krunch: 2015 was an interesting year for David Smith and the Flame Motorsports group. For the first time in recent memory, Smith and King Krunch were absent from the scene during first quarter as Smith's two trucks were piloted by the Basl twins on the #MoreMonsterJam tour. Over the year though Smith has expanded his operation with an all new King Krunch build along with some new builds for customers. Smith is a veteran of the sport with plenty of experience so we don't expect too much rust to shake off when Smith arrives in Atlanta. Like Fortune, Smith is a capable driver and has had flashes of brilliance with strong freestyle's and final round appearances but is generally a middle of the pack finisher in either competition. It'll be nice to see a return of a familiar face and name to Monster Jam though in 2016
Bryan Wright | Hooked: Bryan Wright might be one of the best kept secrets in monster trucks when it comes to driving talent. The Currituck, North Carolina native comes from a hot bed of monster truck talent and has proven himself to be a great driver over the years. When he's given the greenlight to give it all, Wright can turn some heads, much like what he's done while driving the late Maxie Broaddus' Walking Tall. Wright though has spent more of his time as the teammate to a higher profile team truck whether it has been Steve Sims and Stone Crusher or Pablo Huffaker and Grave Digger. As that second driver expectations are generally to drive smarter and not tear up too much equipment which can make challenging for freestyle wins a tough task. With that said Wright is a strong racer and could definitely sneak into contention for some wins on the season.
Becky McDonough | El Toro Loco: The FS1 Championship series is going to look a lot different from what Becky McDonough has been used to for the last year. As a part of the #MoreMonsterJam tour McDonough saw a lot of small arenas and time in both the Speedster's and ATV's. McDonough and her fellow competitors racked up a ton of driving experience on the tour and in the months of practice ahead of the tour and it has shown in McDonough's driving. While the more tour competitors mostly saw small arenas, they did get some stadium time in over the Summer in Spain and again in November when they visited Stockholm. McDonough has had some high moments, she hasn't found the consistency to be a regular contender for wins, but that may change on the new year. We'll find out as the season progresses.
Brad Allen | Brutus: It's never easy to come in and live up to high expectations set by your predecessor, but Brad Allen has done a fine job in filling the seat vacated by Chris Bergeron when he retired in 2013. While Allen might be a little more mellow in his driving style compared to the often wreckless performances of Bergeron, he's a solid driver and learning every time he gets behind the wheel. We may not see Allen challenging for wins every weekend on the upcoming FS1 Championship Series but he'll deliver some good freestyles and maybe make win a few rounds of racing along the way.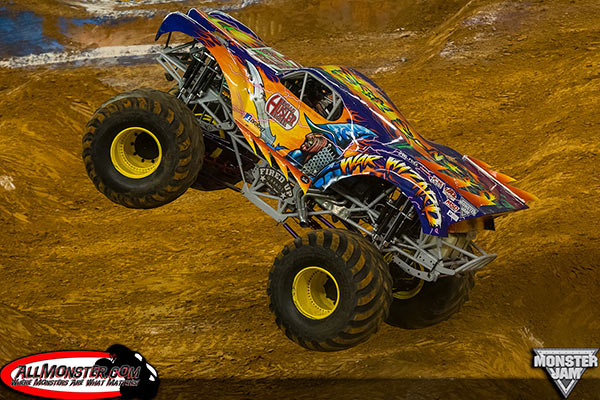 Shane Phreed – War Wizard: The War Wizard team returns to the FS1 Championship Series in 2016, but this time with a new face behind the wheel. 2016 will see Shane Phreed behind the wheel of the Bristol, Tennesse based War Wizard on the series. Phreed has spent some time as both a crew chief and driver over the past several years, but we haven't seen enough of Phreed behind the wheel to truly give him a fair evaluation of his abilities. The series will certainly give him a chance to gain some valuable experience on the bigger floors and some time around some of the best drivers to learn from. We'll have to see what Phreed has in store for us on the new year.
With a solid line up of 16 trucks and drivers the action on the Monster Jam FS1 Championship Series will be something to follow throughout the first quarter of 2016. Last season delivered plenty of excitement and drama and we're excited to see it return on the new year. Let us know what you think of the series and who your favorites are to get the title in the comments below or on our social media pages.
Monster Jam FS1 Championship Series Dates
January 9 – Atlanta, Geogia
January 16 – Tampa, Florida
January 23 – Orlando, Florida
January 30 – Indianapolis, Indiana
February 6 – Houston, Texas
February 13 – Anaheim, California
February 20 – St. Louis, Missouri
February 27 – Detroit, Michigan
March 5 – Syracuse, New York