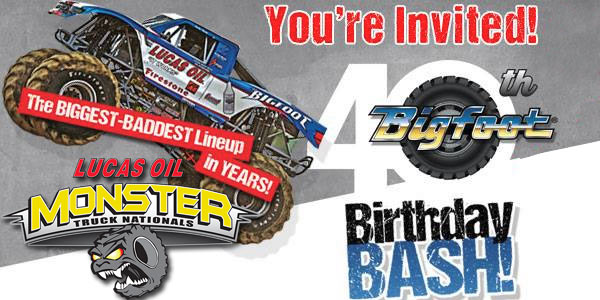 (Indianapolis) – The Lucas Oil Monster Truck Nationals returns for 2015 with a 13-show winter season tour celebrating the 40th birthday of the Original Monster Truck – Bigfoot.  The Lucas Oil Monster Truck Nationals invites fans to attend Bigfoot's Birthday Bash and Smash Tour.  It opens at Tyson Events Center in Sioux City, IA on January 16th and will visit six cities, wrapping up for the season in Columbus, OH on April 11th.  The five truck all-star show will feature three Monster Trucks from the legendary Bigfoot stable, including the Lucas Oil Bigfoot and the two Hemi-powered RAM Monster Trucks, Raminator and Rammunition from Hall Brothers Racing.  Making its debut on the Tour for 2015 will be a green 10ft. tall and 25ft. long fire-breathing, fast-moving mechanical creature called RockZilla that will amaze and delight audiences with its danger-hungry feats between Monster Truck runs.
Mike Moore, President of Family Events – Producers of the Lucas Oil Monster Truck Nationals said, "Every monster truck fan in the world knows that Bigfoot is the truck that started it all.  It's been 40 years of fun and excitement for families everywhere thanks to this amazing machine, its creator – Bob Chandler, and the whole team of Bigfoot pros at the shop in St. Louis.  We think it's time to salute Bigfoot with a big birthday bash and invite families to come celebrate.  We believe that a great monster truck show is made by great trucks and with THREE Bigfoot trucks and the elite team from Hall Brothers Racing of Raminator and Rammunition, we've put together our best, most competitive lineup ever for the Monster Truck Nationals Tour in 2015."
Each show on the Lucas Oil Monster Truck Nationals tour will feature head-to-head competition between these powerful Monster Trucks in events such as The Wheelie Challenge, Long Jump, Donut Competition, Side-by-Side Racing and the no-holds-barred Freestyle competition.  Mark Hall, driver of Raminator, has been hard at work readying his truck to defend his Monster Truck Nationals Championship racing title from 2014.  Each show promises to be a real shoot-out between and among team members who are serious about winning.  Fans will be able to track the results and see photo and video highlights as the Tour progresses at www.MonsterTruckNationals.com and on Facebook, YouTube and Instagram.
Two hours prior to each performance, a special Pit Party will be held in the arena offering families an opportunity to get up-close to the monster trucks, get autographs from the drivers, take photos of the monster trucks that will compete in the thrill show, enjoy interactive displays and celebrate with special birthday bash activities.  Admission to the Pit Party is free with paid admission.
For The Lucas Oil Monster Truck Nationals Birthday Bash and Smash Tour…five of the BEST Monsters in the WORLD!
Lucas Oil BIGFOOT….the ORIGINAL Monster Truck
Retro BIGFOOT…..paying tribute to 40 years on a New Chassis
RAMINATOR….RAM is back in black and ready to win again
TrueMax BIGFOOT….the dominating racing and high-flying machine
Rammunition…firing away with a powerful HEMI
The Lucas Oil Monster Truck Nationals Birthday Bash and Smash Tour…Tour Stops for Winter – 2015:
Tyson Events Center – Sioux City, IA – January 16 & 17, 2015 (3 shows)
Alliant Energy Center – Madison, WI – January 23, 24, & 25, 2015 (3 shows)
Convocation Center – DeKalb, IL – February 22, 2015 (1 show)
Southern Illinois Center – DuQuoin, IL – February 27 & 28, 2015 (3 shows)
Sears Centre Arena – Hoffman Estates, IL – March 20 & 21, 2015 (2 shows)
Schottenstein Center – Columbus, OH – April 11, 2015 (1 show)
Complete information on each show including ticket prices and availability is online at www.MonsterTruckNationals.com.
MEDIA CONTACT:
Emily Boden, Family Events
eboden@familyevents.com (859) 991-2120