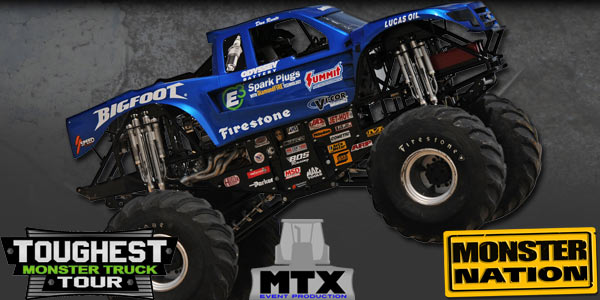 Celebrating his 25th anniversary driving 'The Original Monster Truck'™, Dan Runte can add another championship to his long list of accomplishments behind the wheel. He and BIGFOOT #18 won their 3rd consecutive title of 'Toughest Monster Truck'; considered by many to be one of the most competitive circuits in the monster truck industry.
The championship comes from a combined schedule of events from the Toughest Monster Truck Tour and Monster Nation which totaled 9 events and 21 performances from January to April. An innovative change to the points structure this year made it possible for nine trucks to compete fairly for the championship. "For 2014 we changed the points system to count each team's 6 highest scores from the season, which rewarded consistency and gave more drivers a legitimate chance at winning" noted event producer Brian Manson. "After each team posted 6 scores, the only way to gain more points was to improve on them. This forced each driver to give their best in each of our 3 competitions during each event and the real winner in the end was the fans".
The achievement is far from a hollow marketing ploy, as Runte overcame adversity and used consistency to push himself ahead of rising star Brandon Budd in 'Red Solo Truck'. Dave Radzeirez and Chris Ludwig filled his seat for 3 performances when a family matter pulled him away from the tour. With the change came a series of mechanical gremlins that cost the Bigfoot team valuable points in Southaven, MS and Rio Rancho, NM. For several weeks Budd had a window to close the gap, and had a mathematical chance right up until the final stop in Charlottesville, VA. He wasn't able to match the consistency that Runte delivered overall though and fell short by a mere 27 points. In addition to the championship, Runte also posted the highest single score of the season, with 86 of 90 points in Pikeville, KY on March 15th.
Congratulations to Dan Runte and the entire Hazelwood, MO based Bigfoot 4×4 operation on their 3rd consecutive championship!
2014 Final Points Standings:
1. Bigfoot 500 (85, 81, 84, 86, 83, 81)
2. Red Solo Truck 473
3. Equalizer 472
4. Double Trouble 465
5. Captain USA 456
6. Toxic 437
7. Over Bored 397
8. Walking Tall 389
9. Raminator 368
*Each driver's top 6 scores of 21 performances counted in championship. 90 points available during each performance, for a total of 540 possible.
For more information, please visit:
Toughest Monster Truck Tour: www.toughestmonstertrucks.com
Monster Nation: www.monster-nation.com
MTX Event Production: www.dirtshows.com
Bigfoot 4×4, Inc: www.bigfoot4x4.com