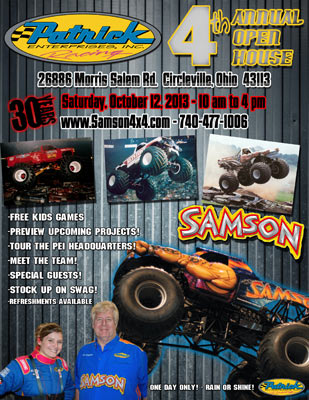 In the fall of 1983 at the 4 Wheel Drive Jamboree in Indianapolis, Indiana, the Samson Monster Truck, owned and driven by Don Maples of Huntsville, Alabama made its debut. Dan and Chris Patrick purchased the truck and name in 1988. Over the past 30 years, the Samson body has undergone many changes and paint schemes. From Red, to Coors Extra Gold, to Keystone, to American Gladiators with the Arms to Red-White-Blue, to our signature "Samson Blue". Dan thought he would give the monster truck "thing" a try for a few years and here we are 25 years later still going strong!!
Our Patrick Enterprises Inc / Samson Monster Truck Open House will be held Saturday October 12, 2013 from 10:00 am to 4:00 pm, 26886 Morris Salem Road, Circleville, Ohio 43113.
Check out our new Samson 30th Anniversary t-shirts that will be available at the Open House and on our website merchandise page www.samson4x4.com/merch.htm
We look forward to this event and hope you all can come celebrate Samson's 30th anniversary with us!
-Dan and Chris Patrick & Family