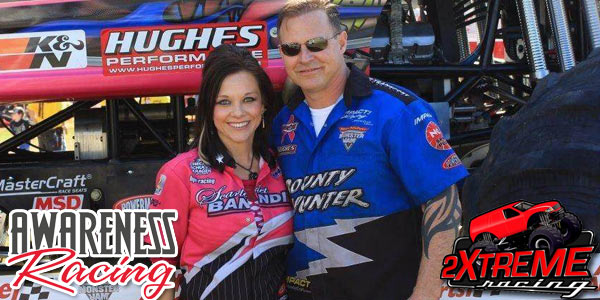 Awareness Racing owners Ed Dunning and Todd Morey are pleased to announce the newly formed Alliance with 2Xtreme Racing and it's owners Jim and Dawn Creten of Tonganoxie, Kansas. Together, this Alliance will field the brand new @team_survivor Monster Truck.
2Xtreme Racing owner Jim Creten is the 2005 Monster Jam World Freestyle Champion and primary driver of Bounty Hunter. His wife Dawn, is the primary driver of Scarlet Bandit. 2Xtreme also stables the Iron Outlaw and Red Baron Monster Trucks. For over 20 seasons this Mega-Monster-Truck-Team, with two additional drivers, has competed in the United States, Canada and Mexico. All combined, these trucks compete at nearly 100 events annually. To say this team is busy is an understatement!
In a vision for this team over a year ago, Team co-owner Ed Dunning says "We knew this Monster Truck would have a huge impact and carry a great cause. With that in mind, there had to be an alliance with a championship caliber team that understood the magnitude of this package, what it would mean to the fraternity of cancer survivors, and those currently undergoing cancer treatment". A cancer survivor himself, Dunning said about @team_survivor: "This will be the symbol of global hope to those many millions stricken by cancer and the many tens of thousands of heroic survivors". With that in mind, there was really only one team that met the many qualifications, and that team is 2Xtreme Racing and the Creten's. We welcome them as family and are so thankful to them for understanding this vision. 2Xtreme Racing owner Jim Creten shared that cancer had visited the Creten Family also, as they had recently lost close family members to the battle against cancer.
An excited Todd Morey says "With the parings of Awareness Racing, 2Xtreme Racing, and the American Cancer Society, this could be one of the strongest motorsports groups out there! This new team is not only devoted to bringing Monster Truck fans some of the best entertainment in the world, but an even stronger devotion is bringing Awareness and motivation to the early detection and prevention of cancer." The team has implemented a unique "Mobile Give" program and a portion of all proceeds donated to @team_survivor go toward cancer awareness and research through the American Cancer Society. You can text "cures" to "41411" any time. The lines are open. Become a team member by giving today!
Additional information is coming with our new full line store, combining Awareness Racing and 2Xtreme Racing apparel for men, women, and kids. A debut date for @team_survivor is coming very soon! Final components are being fabricated as you read this release.
A special thanks to Tex and Melissa McDorman once again for the awesome art work and clothing designs! Visit texefx.com to learn the "Tex" story and see this Award Winning Artist Team at work.
Be sure to visit our new Team Survivor Facebook "Fan" Page, and click "like". We are looking to build 10,000 likes as soon as possible. Also follow us on Twitter @team_survivor.
Jim Creten added, "Cancer awareness is our mission just like the name says, Awareness Racing!"