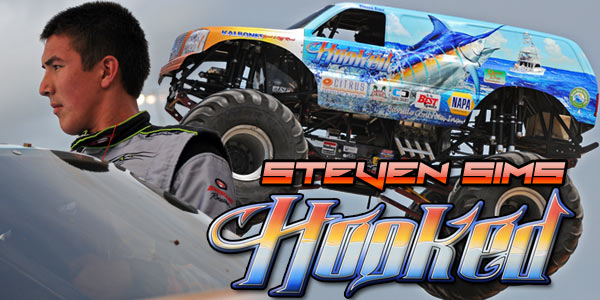 In recent years, we've seen a number of incredible talents make their debuts and become rising stars, and the future looks bright for Steven Sims. The second-generation driver has been invited to compete in this year's Young Guns Shootout at the Monster Jam World Finals. Few first year drivers have had as much buzz surrounding them like the 18-year-old Sims. With only a handful of events under his belt, he's taken the reigns of Hooked and looked like a seasoned veteran competing against some of the sport's top drivers. We decided to take a look at the path Sims has made on his way there.
For many fans the Sims name is a household name, as his father has created a strong reputation and following with the Stone Crusher monster truck. With his father being a five-time Monster Jam World Finals competitor with a number of wins in his resume, you can imagine expectations would be high for young Steven. Not only has he lived up to the hype, he's surpassed the expectations of many. Sims got his first chance behind the wheel at just 14 years old in 2009 after field testing the Stone Crusher behind the team shop in Virginia Beach.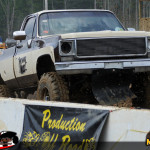 Much like Ryan Anderson, Sims cut his teeth in hill and hole mud racing early on. He competed in his blue and white Chevrolet pick up (named Young Mud) to get his feet wet and gain valuable experience. In 2010, he made waves when he and the Monster Trucks Unlimited camp arrived at Dennis Anderson's Muddy Motorsports Park for the annual North vs. South event with a converted monster truck sporting the Young Mud name. At just 16 years old, he stunned the competition from all over the country with his driving skill, and was able to take first place in the event overall. It was clear he was an absolute natural behind the wheel, showing great control and no hesitation as he navigated the grueling course and flew his way to victory.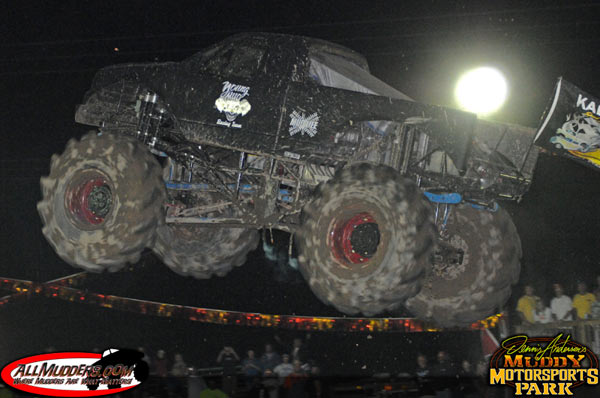 One year later, Steven Sims returned to Dennis Anderson's Muddy Motorsports Park to defend his North vs. South title against the best mega trucks and drivers throughout the scene. Sims showed his driving prowess once again, taking his second straight victory at just 17 years old. However, the moment that made a lasting impression on everyone was the freestyle that followed the racing win. Sims was fearless as he attacked the track and launched Young Mud high into the air. The truck came down hard on the nose into a spectacular end over end crash. Sims emerged a little dazed and sore, but unscathed from the wreck to a roaring ovation from the fans.

(Video Courtesy of BJS Productions)
In May of 2012, Steven Sims made his official debut behind the wheel of Hooked in front of his hometown fans at the Monsters on the Beach in Virginia Beach, Virginia. The unveiling took place on Saturday afternoon, where he performed a spectacular freestyle exhibition. After a blown motor sidelined teammate Bryan Wright and Monster Magic for the rest of the weekend, Sims was inserted into the shows, and got his first chance to race and freestyle in competition. Sims rose to the occasion and stood on his own, advancing to the semi-finals in just his second show. In freestyle, Sims was a contender right from the start, as he showed no fear in pushing Hooked to the limits. Big air, sky wheelies, and great momentum were highlights of his freestyle runs.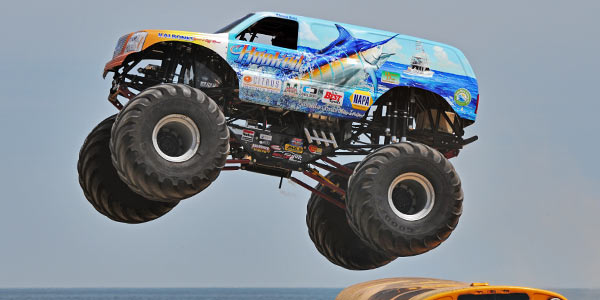 Over the summer of 2012, Sims got a few more chances to get some seat time behind the wheel, and has continued to show signs of brilliance behind the wheel. In Charlotte he qualified third on one of the toughest tracks in all of monster truck racing. His round one match up against Chris Bergeron was one of the closest and most exciting races in recent memory, as Sims came up short of the win by a narrow margin. He responded by making a stellar return in freestyle, going after the biggest jumps in his path and flying around with ease. At the end of the night he finished third. The two drivers in front of him were a former two-time freestyle champion in Jim Koehler and Avenger, and his father Steve Sims in Stone Crusher. It was a spectacular achievement after just three weekends behind the wheel.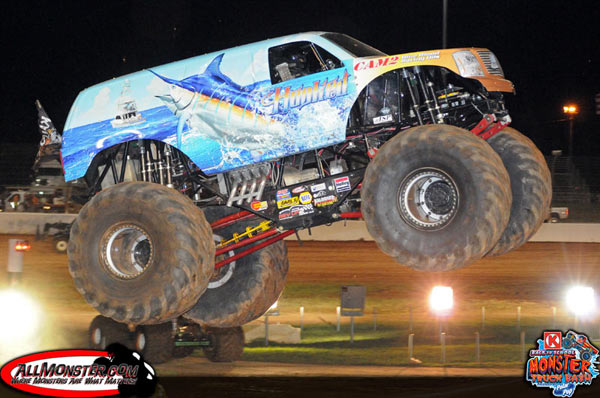 While Steven has taken some time off from driving since last summer to go to school at East Carolina University, he made a huge impression on the monster truck world. Two weeks ago he was announced as one of the competitors in the upcoming Young Guns Shootout at the Monster Jam World Finals in Las Vegas. Days after that announcement, he returned to the drivers seat under unique circumstances in Hampton. After Hooked suffered engine troubles Friday night, the Monster Trucks Unlimited crew brought back the former Monster Magic chassis and thrashed to get it prepared to run as Hooked the next afternoon. Sims, Tommy Powers, Craig Barnhill, Robbie Poyner, and others pulled together and made it happen as the truck was ready just before showtime.
Sims didn't disappoint, as he showed no rust at all from his time off from behind the wheel. Despite not having driven this particular chassis with standard monster truck tires since he was 14 years old, he looked completely comfortable in the truck. Sims was able to pick up the racing victory over his father Saturday night, but what was most impressive was his performance in freestyle. The level of momentum and flow to the runs from Sims was impressive from a driver with no prior small arena experience. It's not easy task to wheel a monster truck around a hockey floor, but Sims showed no hesitation at in either freestyle run. The tacky dirt gripped hard, but Sims whipped the truck around like a seasoned veteran, and skied out Hooked multiple times, rivaling the air of his father and the Koehler brothers, Jim and Steve. His runs were good enough for a second place tie and third place, respectively.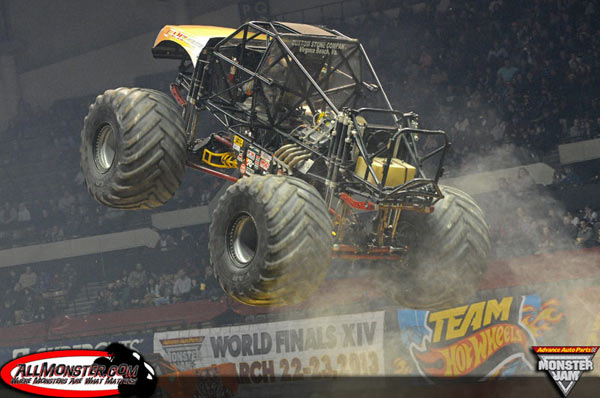 With the Monster Jam World Finals in Las Vegas upon us, it's sure to be a busy time for Steven as he balances school and monster trucks. While he won't be taking over as a full-time driver, he has had a couple more chances to drive. Don't be surprised if this Young Gun makes some waves this year in the Young Guns Shootout. One thing is for certain, the future is bright for Steven Sims.