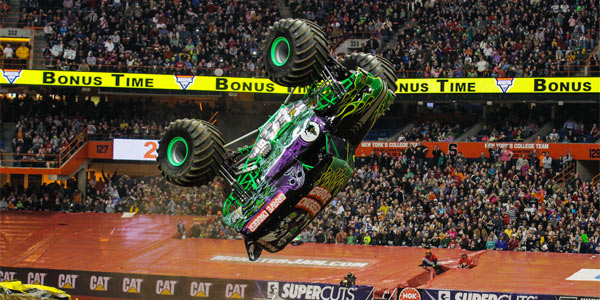 For the third straight year Syracuse, New York's Carrier Dome played host to the stars of Monster Jam for a night of wild action. The short history of the annual event has turned in some memorable moments, and this year's event would be no different, with a number of World Finals and Young Guns Shootout qualifiers in the field. When the dust settled, it would be two of the sport's living legends standing atop of the stage victorious.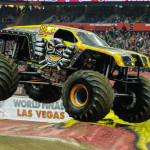 It didn't take long for things to get wild, as Joe Sylvester and Bad Habit rolled over racing Tom Meents and Max-D in round one. Sylvester put his foot to the floor and was able to bring Bad Habit back onto all fours, but the truck suffered steering damage and a flat right front tire. Round two saw a huge upset when short course off road ace Todd LeDuc and Metal Mulisha took out Dennis Anderson and Grave Digger. In the semi-finals, LeDuc knocked out fellow short course off road racer Lee O'Donnell and Iron Man to advance into the final round against Meents and Max-D. Meents would not be denied in the finals, and picked up the racing win dedicating the victory in memory of Alex Faulkner, a young fan from Meents' hometown who recently passed. With his name on the side of the truck, it was a special moment for Meents and the Max-D team.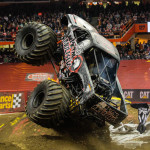 Freestyle saw plenty of wow moments and its fair share of carnage, with a number of trucks losing rear wheels, including After Shock, Black Stallion, Crushstation, and Metal Mulisha. LeDuc and Metal Mulisha wouldn't be stopped by the missing wheel, continuing on to complete a wild freestyle run that would be good enough for third place overall. Bad luck caught both Iron Man and Batman, as both trucks suffered early rollovers in freestyle. The Slifko family had a good outing, with Andy putting in a solid effort in Eradicator, while Jeremy got some nice air and a full run in Backdraft.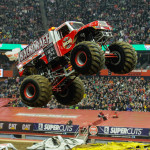 The Team Scream camp were wild as always, with Chris Bergeron getting Brutus onto two wheels multiple times during his freestyle. Jim Koehler had a great save in Avenger but rolled over just a few jumps later, cutting short his efforts. Frank Krmel and the Advance Auto Parts Grinder turned in a great performance with some huge air, clearing the double, but was one point shy of LeDuc for the lead. Meents came out charging with Max-D in pursuit of the Double Down trophy, attacking the floor with great momentum and big air. A bad side slap landing just before bonus time would end Meents' run, but it was good enough for a one-point lead.
With just one truck to go, it was Anderson and Grave Digger standing between Meents and a Double Down. It was a run for the ages from Anderson, as he unleashed the truck for an all-out assault on the course. Anderson set a blistering pace and soared over every obstacle. Entering bonus time, Anderson attempted a cross thread over the first part of the double with the rear steer turned. The truck pirouetted in mid air, rotating around before slamming side first into the second jump of the double, and back onto all fours. Without any hesitation Anderson was back in the throttle and continued with a few more jumps and a donut to finish up an incredible freestyle, taking the victory in the process.
Special thanks to Kyle Carr for all of these great photos. Be on the look out for a full gallery from the event soon.