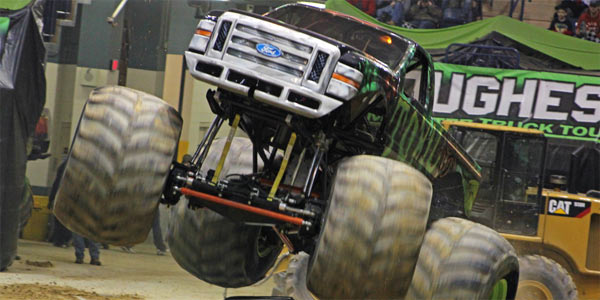 The Toughest Monster Truck Tour showed some muscle as they rolled into Youngstown, Ohio's Covelli Center for a two show weekend of stellar monster truck action. With six of the toughest monster trucks around set to do battle for the nightly Toughest Monster Truck title there was plenty going on throughout the weekend and our own Jeremy Puglisi was there to capture it all.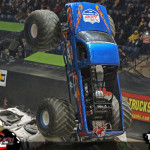 Friday night kicked things off at the Covelli Center for the first of two events. Red Solo Truck pulled off the wheelie contest win for the first of the night's competitions, sneaking past Bigfoot by just one point for the victory. In time trials, it was Travis Petri and Toxic rising to the occasion and picking up the victory. The tacky floor made things tricky in the donut competition but Petri and Toxic were able to break loose and spin their way to the second victory on the night. In between competitions it became apparent that Equalizer was having engine issues and would be sidelined for the rest of the night as they recovered from three stuck valves in the motor. In freestyle the competition was tight at the top as Red Solo Truck and Toxic tied for the win, making Toxic the overall Toughest Monster Truck on the night.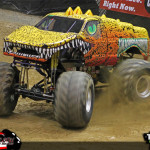 With a standing room only crowd packing the arena, Saturday night was rocking at the Covelli Center. Dan Runte and Bigfoot got off on the right foot with the early wheelie contest victory. With the strong start to the night, Runte and Bigfoot looked to be on their way to the Toughest Monster Truck title for the night, and they continued their efforts with a win in time trials. The Bigfoot dominance ended there, as Red Solo Truck would take the donut competition. With one event remaining, it was Petri and Toxic picking up the honors with the freestyle victory.  After it was all said and done, Red Solo Truck was declared the Toughest Monster Truck at the end of the night in Youngstown.
Thanks to the entire Toughest Monster Truck Tour crew for their continued hospitality. Be on the lookout for more from the AllMonster crew in the coming days with coverage from St. Louis, Youngstown, and Charleston on the way.