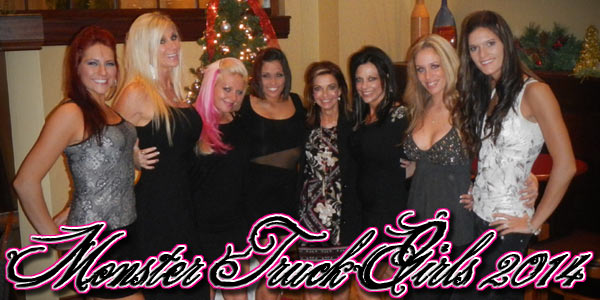 Once again our good friend Stephanie Cotnoir (aka Miss Tool Box) checks in with a unique blog post chronicling one of her more recent adventures, as she traveled to Jacksonville, Florida to take part in the Monster Truck Girls calendar shoot. Cotnoir joined several other girls from within the monster truck industry for a fun weekend and gives us an inside look of a different type to some the antics and perspectives from herself and the other girls participating in the photo shoot.
Back in September, I was at the local marina working one night when my phone rang. It was an unknown number. I decided to take the call, even though I usually don't answer when I don't know who is calling.
"Hi Stephanie, it's Madusa!" – I responded with, "Hey. Hi!" I suddenly got very excited and I was thinking "What the heck? Why is she calling me?"
So that's how my adventure began! Basically, she explained that she had a "Monster Truck Girls" calendar project, and that she wanted me to be a part of it! I was actually in shock that she thought of me for her project, but decided right away to be a part of it. I knew it would be an amazing opportunity, and hanging out for a couple days in Florida in December with bunch of cool women did sound like a great idea.
Once our themes were decided, we had to start shopping for outfits and thinking of ideas of poses and hair and make up. This might sound easy, but believe me, it was quite a challenge! It already takes forever for me to decide what I'm wearing every day, so it was even worse for a photo shoot, haha! Madusa was a great help with her advice and comments on the ideas I shared with her.
Finally, December came, and it was time to go! I got my hair done, my first ever pedicure, and there I was, on my way to Florida! This was one of the coolest experiences of my life, and most definitely one of the funniest weekends I've had! You can read some of the girls' funniest memories at the end of my article, but these are my top four:
1- Driving downtown: Whether it was getting lost with Madusa and cutting people off to switch lanes at the last minute, or the creepy cab driver that had me and Tina Huffaker writing respectively to Steve (Koehler) and Pablo (Huffaker) to tell them to send the police over if we would suddenly disappear! No joke, Tina was even ready to hit him with her high heels, and sent a photo to Pablo! That was priceless!!!
2- Photos: Oh boy were there lots of funny pictures to take there!!! At the hotel, restaurant, at the studio. Even in our beds! Check out the monster truck girls calendar facebook page for some of them.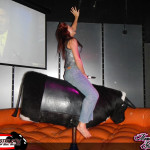 3- Our Christmas party and night out: We spent around an hour at the least trying to figure out why there was a gift missing at the exchange. We're still wondering what happened! And at the bar, Becky McDonough and I rode the mechanical bull like champs, and Becky definitely did it with style, with pants that she borrowed from a guy who was then wearing her skirt!
4- Last but not least, the photo shoot experience: Our photographer, Anthony Neste, was amazing. It was a pleasure to work with him. The whole studio experience was nice, from the massaging chair to the Yoo-Hoo drinks! (A first for me)
The hardest thing for me was to stop eating chicken nuggets and M&M's prior to the shoot, and not being able to eat Panera Bread while I was in Florida. Those three things were constantly in my mind. As soon as the shoot was over, I ate my first M&M's bag in weeeeeeeeeeeeks! Mmmmmm!!!!!
Looking back, I would like to say that those 250 sit ups daily, plus jumping jacks, weight lifting, diet, tanning, etc were totally worth it… but seriously, I never thought that getting ready for a photo shoot would be that much work! At some point, I found it stressful, but it was so much fun and all the hard work paid off.
My Experience
By: Dawn Binstock Creten

I would have to say my photo shoot experience exceeded my expectations. Not only was it a great getaway, but getting a little pampered was a plus! Getting to know all the "Monster Truck Girls" off the track was much needed. I have to say we all do have very different walks of life, and that's what I loved; we all learned a lot about one another. Now just because I love you all doesn't mean I'm giving you any slack at the starting line!

I have to say I have never laughed so hard at some of the events that took place. Loved that Taryn Laskey thought the motel lobby food including Starbucks was "a continental breakfast." Loved Kaila Strong loaning out all her under garments! Becky convincing an innocent young man to lend her his jeans and replaced with her skirt. The missing gift at our Chinese Christmas. Kaila still has her pen and paper out trying to solve that mystery! I like how we grouped ourselves. Tall girls (redwoods) medium girls (magnolias) and us 5'2 1/2 and under, (Yes I am 5'2 1/2 for you doubters) we were the bonsai's!
"Cinderella Moment"
By: Tina Huffaker

I am still excited over the time we had at the photo shoot. We all had a blast together – lots of laughs! Everyone was very creative, showing yet another talent.I think we all left there with a real sisterly bond. There aren't many women that can be confined in two rooms for three long days and enjoy each other like we did, entertaining with song and dance and lots of silliness. Even the makeup artist commented that they "never had a group quite like ours." We pretty much took over the studio, which is a state of the art – cool place.

I had a great time getting ready for my shoot, some real funny moments (you had to be there kind ) Candice was at my side making sure the makeup artist was getting everything just right, and in any typical situation involving a monster truck, we were multi-tasking. While the finishing touches of makeup were going on, Candice Jolly was spraying me down with dry oil and making sure I was polished to a glow! Now that's a real buddy!

While modeling for the pictures, there is a lot of movement and changing facial expressions. I have a real hard time pulling off a serious look. I would strike a pose, then Madusa would shout out, "There it is, give us a slight smile with no teeth!" Me, I couldn't help but bust out laughing with an ear to ear smile saying, "I can't smile without my teeth."

I will share a few personal moments in the weeks leading up to the shoot:

Day to day business in the shop. Several business trips in October and November. Sinus surgery November 5th, decorate my house for the holidays (thanks to my Mom), 27 guests for Thanksgiving. Now focus on the shoot.

I squeezed in 6:30 am boot camp workouts, I am feeling great and full of energy!

Things start to go downhill from here. I made the crazy decision to get a chemical face peel within 12 days of having to leave for the shoot (obviously I didn't do my research on this) I thought I would leave the doctor's office just glowing, then off to the mall next door for some Christmas shopping. Oh No, I was told I cannot be out in the sun for at least 1 week and I must keep this thick white cream all over my face with an additional layer of aquifer. I was freaked out! I had so much to do! So, I got caught up on all my house work, paper work, etc. and would go out shopping at night, cream and all on my face. I had a baby and a few little kids stare me down, and lots of adults commenting, "You must have had a peel!"

Next it's time for my hair appointment – no worries, my hair appointments are pretty routine with no problems. Except this time. Long story short, the new line of products didn't want to cooperate with the products that were previously used on my hair. After 8 hours one day and 5 hours the next, my hair was finally looking good again. Now I go to the eyebrow bar in the mall. The girl butchers my eyebrows! I have kept my cool over all these little issues. One safe person to vent with is always my husband. Red-faced mad and near breaking tears I am yelling at Pablo, telling him, "I am going to turn real "Bitch" on the next person that screws up my "Goods!"

My "Goods" turned out OK and I wouldn't change a thing; there were some big laughs at my expense, which are now good stories and great memories.

I am looking forward to the next time this "10 Pack" gets together on another project!
Monster Truck Calendar Photo-shoot
By: Nikita

I believe my experience with Anthony Neste was amazing. I really liked him as a photographer. I have complete confidence that every month is going to rock. However what made this experience even more fabulous is getting to know all the girls that were there. I truly enjoyed their company and think our laughter will be heard for years to come. Truly made some great friends. There wasn't anything I did not like.

There are several funny stories I would like to share, such as Becky changing her skirt for the guys jeans to ride the mechanical bull, Dawn getting harassed by an idiot at the club that I put in a finger lock, a taxi man tried to pull one over on all of us, Madusa not knowing there was an elevator full of people as she is getting low with her beer and turns around facing them, the Jolly Sisters (Candice and Courtney) causing chaos, Taryn's sense of humor and getting lost with her on the way to Walmart, Tina taking everyone by surprise and letting loose, Kaila and her magical Christmas gift, Stephanie capturing everything on camera and freaking cracking me up. Seriously – that is a lot of estrogen over a weekend. From strong to sensitive personalities – Yet we all had a blast! However, seeing my girl Madusa after not seeing her in over 10 years, picking up where we left off like no time had passed was my favorite. Lots of great old stories, and got to make some new ones with some kick ass women. I have always respected strong women in a male dominated sport, from our wrestling days all the way to driving trucks. It takes hard work and dedication to rise above all the people that go up against you. This is truly a sisterhood. A lot more good times to come! xoxoxooxoxoxo love my girls!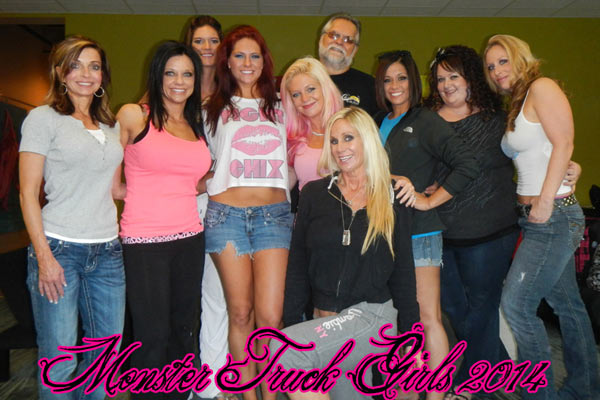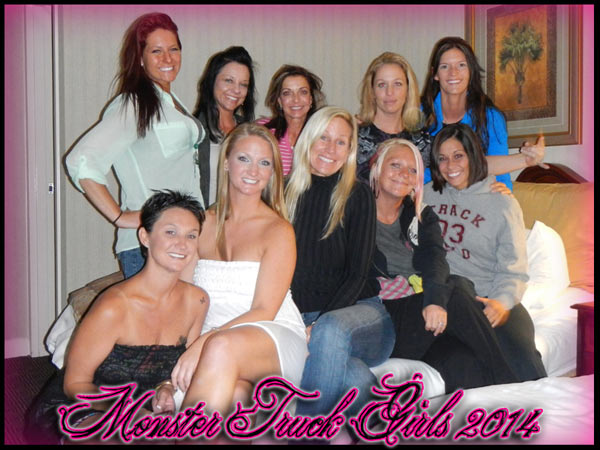 Thanks to Stephanie Cotnoir, Dawn Creten, Tina Huffaker and Nikita for contributing to this piece. To keep up with Stephanie online you can like her page on Facebook or follower her on Twitter. For more information on the Monster Truck Girls 2014 Calendar you can like their page on Facebook.