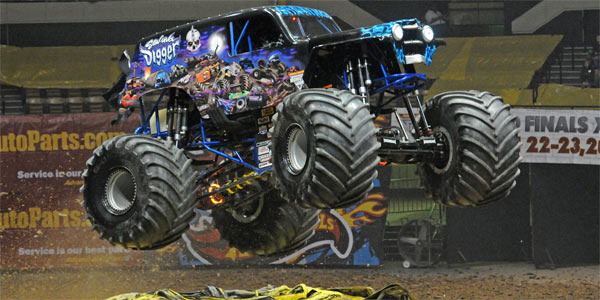 The buzz going into this weekend in Hampton was the long awaited return of Ryan Anderson and Son-Uva Digger, as Anderson would see his first action behind the wheel of a monster truck since sustaining injuries at the Monster Jam World Finals in March. With the anticipation and excitement surrounding Anderson, he didn't disappoint with a strong overall performance throughout the weekend.
With the 2013 season quickly approaching, there were many questions about when we would see the return of Ryan Anderson and Son-Uva Digger. The duo had an incredible 2011-2012 winter season, with many stellar performances and an unprecedented level of dominance in freestyle. While Anderson was out of the drivers' seat for several months to rehab and recover, he remained plenty active with his involvement in mud racing and monster trucks. After finally getting medically cleared, he went from the sidelines to behind the wheel this weekend in Hampton.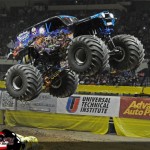 It didn't take long for Anderson to find the winner's circle, as he picked up a racing victory right out of the gate on Friday night. With the first racing win out of the way, Anderson turned to getting a freestyle victory. The start of the run looked promising as he attacked the floor, slinging Son-Uva Digger around in every direction,  but a few off bounces that hurt momentum would cost him a chance at victory, as the competition was on their game that night. Despite just a three-point difference in scoring between himself and eventual winner Gary Porter and Grave Digger,  Anderson would finish fourth in freestyle.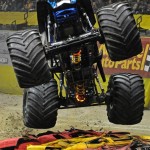 Anderson returned Saturday night and it was clear their was more confidence in himself and Son-Uva Digger after their first event back. The extra aggression out of the already aggressive Anderson started to shine through as the pair looked even closer to being back 100%. Another good effort in racing would land him in the finals once again, but he was narrowly edged out by Frank Krmel and the Advance Auto Parts Grinder. Freestyle however, was a no doubter, as Anderson was the clear-cut winner with a sensational run.
The newly re-cleated Son-Uva Digger, sporting a set of Ecowork "Ukraine" tires was handling well, and Anderson threw everything he had at the truck and track, hitting everything every way possible but straight and with a ferocious pace and incredible control. The smile on Anderson's face following the run was priceless, as everyone could see the genuine excitement he felt to be back.
While the stat column may not indicate the usual dominance we've come to expect from Anderson and Son-Uva Digger, the clear victory is a successful return with two wins and most importantly, his health. With less than one month before his return to the Minneapolis Metrodome to defend his freestyle victory last year, it's a good sign to see Anderson, the truck, and crew-chief Brandon Vinson back in sync going into a new season.