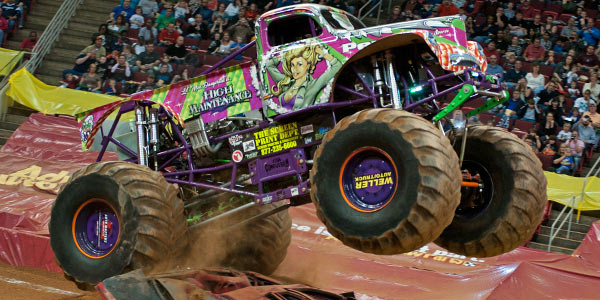 After a season of wins, awards, and success the Perrin Motor Sports Team would like to announce the sale of their current monster truck racing operation and a much needed hiatus from racing.
After dazzling millions of fans and touring the states performing to sold-out houses, the Perrin Family is looking forward to some much needed relaxation after 24 years of racing. The husband and wife team was always a force to be known, from the early days and the beginning of Jocelyn's career in the Bush Hog to winning the prized Advance Auto Parts Monster Jam Team of the Year award in March of 2012. Even after thousands of miles and countless hours of travel up and down the road, one thing never changed, the Perrin's pure love for the sport of monster truck racing.
It is no doubt that Jocelyn took the spotlight in recent years driving "Slick Willy", "Lil' Miss Dangerous", and most recently, "High Maintenance" but it wasn't without the endless hours in the shop and the 110% effort behind the scenes given by her husband, Jeff. Anyone who spent time in the pits at any show the Perrins were performing at could tell you about the the smile he had on his face watching the truck fly though the air or watch Jocelyn interacting with her fans.
The much needed home time comes highly anticipated by the Perrin's daughters, Cassie and Natalie who are looking forward to some fun vacations that don't involve a monster truck show and even some new pets in the future. Both Cassie and Natalie grew up as "monster truck kids" on the road and behind the scenes with the trucks. Many fans might remember the girls riding their quads on the track before the events in the summer.
Perrin Motor Sports' career highlights include winning 3 back-to-back Monster Nationals Freestyle Championships, 2009 MTRA Truck of the Year, 2008 MTRA Sportsman Award, and 2012 Monster Jam Team of the Year. Having started driving in 1990, Jocelyn steps aside as the most top ranked independent female drivers in the industry.
Their career is dedicated to all of the friends, family, fans, and sponsors who kept the team going throughout the years of racing and in memory of those loved ones who were lost on the journey.
"We will miss the sport but look forward to seeing what this new page has to offer."
Be on the lookout for a special career highlight video coming in December.