**UPDATE** Three photo galleries are now available in our Photos Section!
It was another great event for Midwest Monster Truck Events' summer tour, and AllMonster.com's Robert and Erin Haught were on hand to cover the event.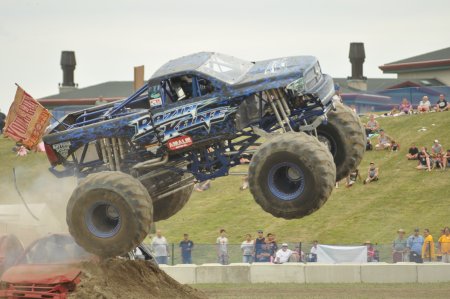 On the four-jump straight line course, it was "Old-School" Dan Patrick and Samson taking the racing victory over Jim Koehler's Avenger, who was also fast but bobbled on the next to last jump, handing Patrick the victory. The chalk talked too, as Patrick ran the fastest qualifying time at 9.97, then blistered the field. Patrick thanked the fans and the Soaring Eagle Casino for their support, and then it was on to freestyle.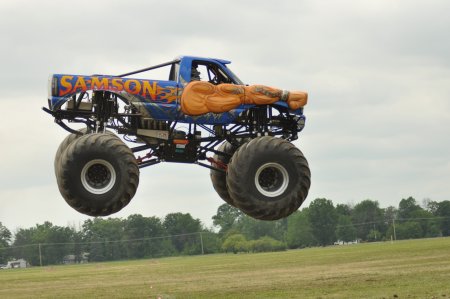 Highlight runs from Devin Jones and Barbarian (pictured courtesy Robert Haught), JR McNeal and Razin Kane, and Jon Zimmer with Excaliber featured big air, donuts, slap wheelies, and some carnage, but at the end of the event, Jones and Zimmer would tie with matching 28 scores from the judges. The crowd cheer-off gave the victory to Mountaineer Motorsports' Jon Zimmer!
For a mini-gallery of the weekend's event, click the link below to head to our Facebook page and give us a Like while you're there; more photos will be online soon: