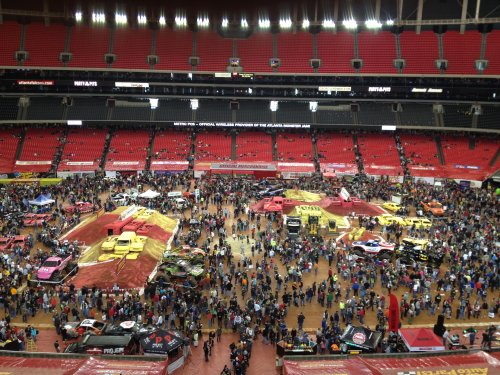 What a week in monster trucks! Several interesting storylines developed out of week two of the 2012 monster truck season, and I'll be talking about the event I had the priviledge of attending—Atlanta, Georgia's Monster Jam.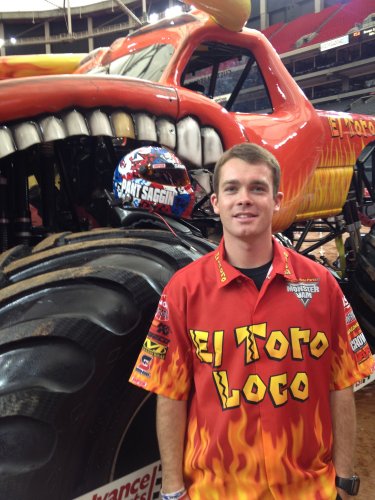 Look out for Morgan Kane. He drove his normal chassis (the second Stone Crusher monster truck), but with an El Toro Loco body in the Georgia Dome. Kane didn't get a win this time, but he has a bright future in the sport for years to come. The thing that strikes me about Kane is his poise with so little experience–the guy is 20 years old and has made rapid improvement already. He told me before the show, "I look at what's happened already (his win in Minneapolis and gaining experience at big stadiums) and I can't believe it; I'm so lucky." It will be scary to see where he's at in another year, and let me tell you, luck has little to do with what is going on in the Monster Trucks Unlimited camp. He ran smooth in racing and smart but aggressive in freestyle, kicking off that portion of the show in style.
The 'old man' wasn't looking so old on this night, as Dennis Anderson was able to pick up a well-deserved Double Down sweep of the competition, but it wasn't without some hard chargers behind him. It looked like things would come down to Adam Anderson and Dennis in the finals, but veteran Chad Fortune had the run of his life in the semifinals to beat Adam and take the new Captain America entry to the finals. Much like Minneapolis, it took a steady hand and foot combination to stay smooth through the turns. Stay in the throttle too long and you could make a bobble that would cost the race. One thing that impressed me was Cole Venard's work on Adam's truck—when Grave Digger The Legend went to the pits with a broken sway bar after round two, it was Venard's handiwork that got him back on the track in time for the semifinals.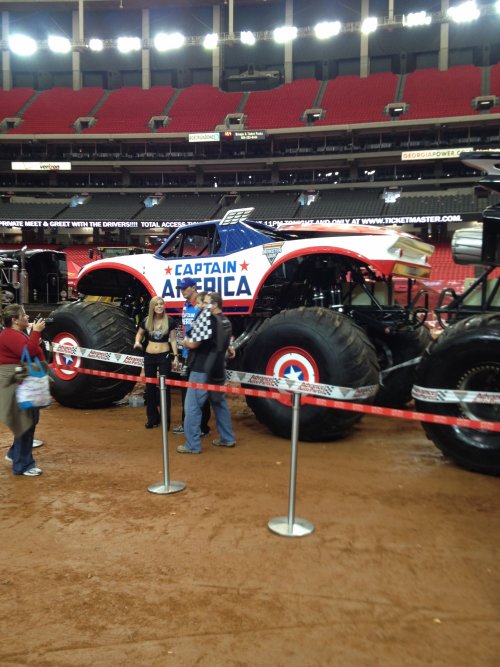 Freestyle came down to Captain America, Grinder, Digger Legend, and Grave Digger. It was obviously a career night for Fortune, as he laid down perhaps his best freestyle ever to go with his final-round racing appearance. There were several 'wow' moments, including a fantastic save at the end of his run. Fortune has taken to the new, yet similar identity of his truck and is making the most of it. From there it was a battle of Grinder's carnage against The Legend's all-out assault. Lupe Soza rolled the truck over and back onto all fours twice in his run, admitting that his first one was "a little lucky," but beyond that, it was deserving of the lead. The Legend was flying all over the track, with gigantic air and saves. When the dust settled, the trucks were tied for the lead. Adam looked like he was taking a beating towards the end of the run, with the rear shocks not functioning due to breakage.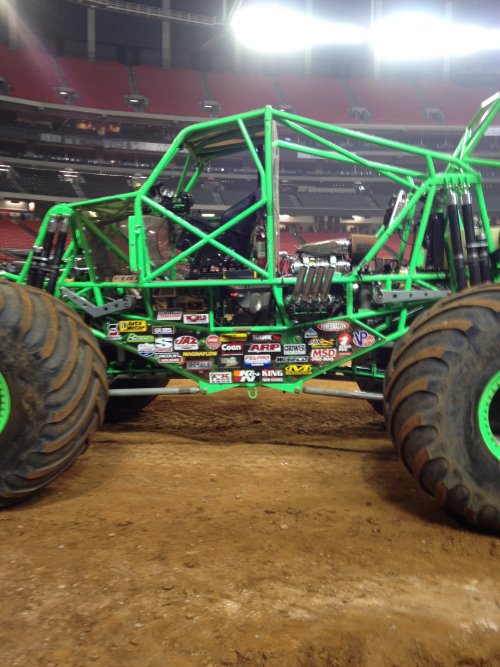 I'll say it right now—Dennis Anderson deserved the win in freestyle. As with any popular truck, sometimes a win can be questioned, but not this one. Anderson slammed the door shut with a spectacular run, somehow keeping Grave Digger on all fours with some incredible saves, shedding the body, and so much more. Simply put, you'll want to see this one on TV and wherever else you can find it. It was a legendary performance for the 20th anniversary of monster trucks in the Georgia Dome.
I will be on the road to Tampa for more Monster Jam this weekend; stay tuned and thanks for reading!