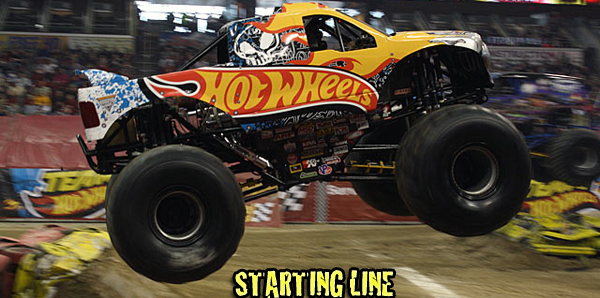 Welcome to the all-new AllMonster.com! I am excited beyond belief that we finally have the redesign of the site online (special thanks go out to Ed Hoormann and Dustin Hart, who worked around the clock with me to make it happen), and just in time for what turned out to be an awesome first weekend in 2012 for monster trucks. I'll be bringing everyone regular content and columns in 2012; Starting Line is back for good! Let's get right to some of the highlights.First and foremost, this will not be a recap column. If you want results, head over to the main page of AllMonster and check it out. I am here to bring perspective on what we saw in the first week, and maybe stir up some discussion about things that were overlooked during the first weekend.
I must say that the early returns from the Grave Digger team are looking pretty good. Dennis Anderson was his normal wild self in a rare visit to an arena in Birmingham, and with the 30th anniversary tour being pushed so hard, I get the feeling that everyone on the team will be hitting the gas that much harder this year. Carl VanHorn, Gary Porter, Ryan Anderson, Adam Anderson, Pablo Huffaker, and Charlie Pauken all took wins on the weekend, most of them multiples, including Porter's sweep. What was important to me though was the aggression these guys showed right out of the gate. I hope the guys at the shop have plenty of bodies ready. They may need to have a parts-only trailer on deck! Another note from Birmingham—Neil Elliott, as usual, was outstanding. He needs to be in a truck in Las Vegas. I don't care which one, but he needs another shot at that track. He is one of the best drivers in the sport, and nearly won a world title in freestyle in Hot Wheels at World Finals 5.
Alex Blackwell started off the season on a strong note right away with three wins in Council Bluffs. When Blackwell gets to let it rip and run his hardest, he's capable of winning anywhere. I was able to talk with him recently, and although the Captain's Curse name is on the shelf for now, he is excited to have an all-new chassis underneath him that was built in-house at Digger's Dungeon. Look for big things from Blackwell this season.
Another guy with a lot of momentum is Morgan Kane and Stone Crusher. It is interesting to note he'll be in El Toro Loco this weekend in Atlanta, and if he gets the green light to let loose, look out. Kane has driven with respect for his equipment and gets smoother every time I see him. He's one I'll have my eye on in Atlanta.
It was good to see the Monster X Tour do so well in Stockton, California with our own Chris Cleveland covering it. BJ Johnson took a wild ride in California Kid, and the former Kaptain Insano driver was fine afterwards. It appeared to me that the truck was set up extremely stiff in the suspension, but it made for a great freestyle. Bill Payne was up to his usual tricks in the wheelie contest and freestyle, and Kyle Doyle was able to get a special racing win in Bigfoot. All signs point to Monster X Tour coming back to Stockton next year, so the insatiable West Coast monster truck fans will have even more to cheer about next year.
Jon Zimmer and Amsoil Shock Therapy was shut out of wins the first weekend, but had a couple of nice freestyles and fantastic wheelies. Did I mention it was not in his normal truck? The chassis Zimmer usually drives was being fitted with a brand new engine that Zimmer says is "a beast" and will provide the power for another great year for the Sudden Impact Racing team. Keep an eye on Kevin "Father Time" Koszala and Excaliber as well; he has improved rapidly over the summer and is getting more comfortable in a Patrick chassis. Chris "Panda" Ryan and Chris Lagana will be at their first shows in Ground Pounder and Ice Monster, respectively. The power plants for all four trucks are upgraded, and things are looking up for one of the best independent teams in the business.
Andy Slifko started telling me in July in Cincinnati that his 15th anniversary of driving Eradicator would mean that "there will be no second truck" on Team Slifko for 2012, and he lived up to that talk the first week out, pulling off a big win in Rochester over Tom Meents and Maximum Destruction. Also, 2011 Monster Jam Rookie of the Year Bari Musawwir started well in Rochester despite some mechanical gremlins in Spider-Man, and was kind enough to send over his thoughts on the coming weekend:
"I look forward to my first big stadium show of the new season this coming weekend in Houston! This will be my first time ever in Texas, and I'm going to try and air out this 'new' to me truck and see how it handles."
Ryan Anderson and Charlie Pauken waged a freestyle battle royale in Des Moines, Iowa, and for any doubters left of Anderson's abilities, I could see an adjustment in his runs between Friday and Saturday. Pauken won with a few awesome slap wheelies, and Anderson simply kept the best momentum. Come Saturday, Anderson pulled up a couple of nice slap wheelies of his own and was crowned winner. Also interesting to note—Jim Creten and the Bounty Hunter team were right there, pushing the Digger drivers as usual and taking a couple of wheelie contest wins. I believe he's ready to break out this year and win a championship. His driver roster is stable, and it would not surprise me at all to see him on the winner's stage in Vegas. "Bobo" Ben Winslow spoke to me about the topic of this in an audio interview coming soon on the site as well.
We have a lot of time until that big event in March, and plenty of other shows to cover before then. 2012 will be the biggest year ever for AllMonster, and we look forward to bringing you all of the best coverage in monster trucks. I'll be in Atlanta this weekend, then back with another Starting Line. Thanks for reading! I appreciate any input and thoughts you may have, good and bad. Shoot me an e-mail at rhaught@allmonster.com, and who knows, you may bring up a topic featured in the next Starting Line! I am always up to talk monster trucks.