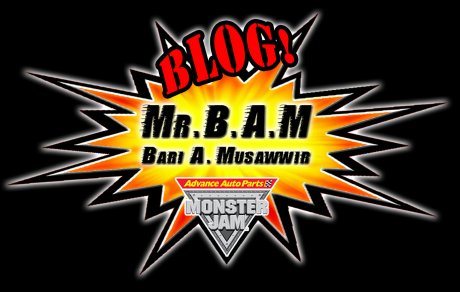 Bari Musawwir had a great fourth weekend behind the wheel of El Toro Loco in Little Rock, AR and has been kind enough to agree to do a season-long blog for us here at AllMonster for you, the fans. Read what Bari has to say about his fourth experience in the 2011 Monster Jam season.
Verizon Arena in Little Rock Arkansas was stop #4 for me and El Toro Loco this season! I was really looking forward to this event in particular for a few reasons! This would be my first non-dirt show in my young career, which would offer a different perspective when it comes to how the trucks handle on the concrete floor of the arena. I was also looking forward to seeing my uncle and cousin, who I had not seen in some four years. They made the trip over from nearby Memphis ,Tennessee to get their first experience at an Advance Auto Parts Monster Jam! Needless to say, they were blown away with the sensory overload that comes along with being able to live it LIVE!
I arrived in Little Rock Thursday evening and headed over to the Arena to check out the venue. Our crew Travis and Scott were over at a nearby Advance Auto Parts doing a display with Grave Digger. I decided to go get checked into the hotel and wait for them to get back so we could go get some dinner. We make a point to try and eat decent meals at least once during the time out on the road, because there is no doubt with the late nights that Monster Jam offer, fast food will be a part of your weekend at some point ! We finally made it to nearby Cregen's Irish Pub, which had awesome food!
Friday morning we headed over to the arena to check the trucks to make sure everything was ready to go for the evening's action. The Crazy Bull got some brand new horns since the ones from the Tacoma roll over were showing some wear and tear. Rod and Grave Digger had early morning media at a local TV studio. After he was done, we set out to go take our fire suits to get washed and cleaned. We then set out to find the last thing I needed to cap off my master plan to help celebrate my Fiancé's birthday. I was able to find her an awesome birthday card to put the finishing touches on a birthday surprise I had planned for her when I got back to sunny Orlando! After that it was time to head back to pick up our freshly cleaned driving suits. We got back to the arena and ordered pizza for lunch and then just relaxed until it was time for the pit party. The pit parties are some of my favorite times during each weekend, because the interaction with the fans is like nothing else I have ever experienced before. They provide the pick me up you need before show time and the looks on the kid's faces are priceless.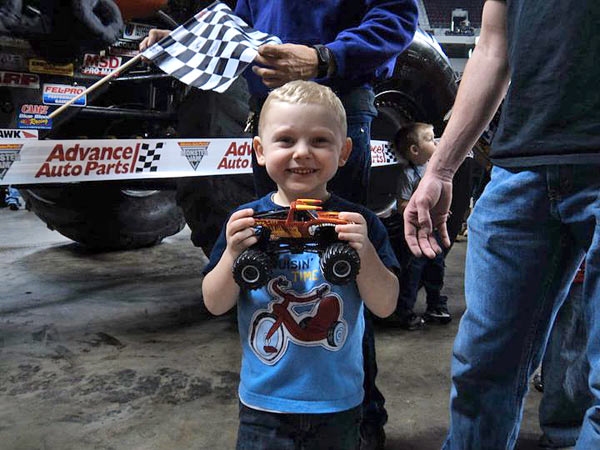 Friday night's show was finally upon us as we roared out the tunnel for intros; I parked and then got ready for the wheelie contest. I was third out behind 2 great veterans, Dan Evans and the Destroyer and Bruce Haney and Bad News Travels Fast. I was able to wheelie my way into the lead with a score of 25 only to be out done by my team mate Rod Schmidt and Grave Digger, who put the black and green wrecking machine past vertical to earn himself a perfect 30! After the wheelie contest, the adrenalin was pumping as I was able to take out veteran Allen Pezo and Predator in Round one, only to get taken out by Rod in Round 2. Rod went on to take out Bad News in the finals! By then I was ready to take on Freestyle. I stormed out of the pits ready to put the crazy bull through its paces. I was having a great run until I felt something in the drive train let go. I truck started struggling to move and I had to stop just when I was getting warmed up. It turned out the rear 3rd member seized up and that was the end of my freestyle, only scoring a 16. The 3rd member assembly is the part that holds the ring and pinion gears that transfer power from the drive shaft to the rear axles. I learned from some of the veterans in attendance that non dirt venues can be hard on these parts because the concrete surface is not as forgiving as dirt or clay. In the post show autographs, the fans lifted my spirits when they told me I was on pace to having a spectacular freestyle, so I was determined to give them a freestyle run to remember at the final show on Saturday evening.
After the crew got the 3rd member replaced, I was ready to get El Toro Loco cleaned and ready for the pit party. I got some white diamonds metal polish and quickly discovered, I'm going to see how shiny I can get the Aluminum parts on the truck by season's end. Once the pit party kicked off, my cousin was great help in taking some classic photos of me with the fans! Thanks Jay!
During the pre-show festivities on both days we got even more time to interact with the fans by surprising them in the stands, picking out a row of spectators to win tickets to the AMA Arena Cross if we ended up winning racing. Once we got the show kicked off, I was able to get vertical in the wheelie contest to score a 26 for the win over Predator. After I got word of the win, I did a quick interview with awesome announcer Mitch Smith and he handed me a Nintendo Wii Monster Jam: Path of Destruction video game to give away. So I headed up to the stands to give it away to a lucky fan with an El Toro Loco Sign!
Next it was on to racing as Predator would get a little revenge and take me out in round 1. I set my sights toward freestyle next. I was able to come out and lay down a great run to tie me for the win with, you guessed it, Allen Pezo and Predator. The tie breaker went to him, but I was happy with my performance. I had a great time, and the fans seemed to be cranked up! I'm looking forward to using this good momentum going into the frozen digs of the Fargo Dome February 4-5. For more information visit http://www.monsterjam.com/Tickets/2011/02/04/Fargo,_ND/
Take Care,
Bari Musawwir