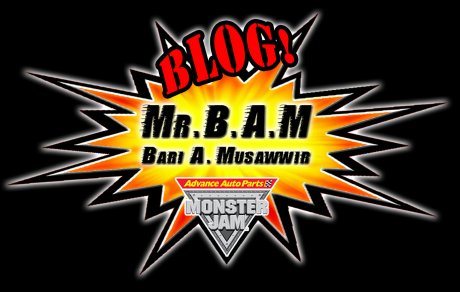 Check out Bari Musawwir's all new blog documenting his visit to Denver, Colorado's Pepsi Center. While the weekend didn't go as planned, Bari still made the best of it, as he provides us with a unique perspective from the weekend's events.
Week number 6 of the Advance Auto Parts Monster Jam tour of destruction took me to the Mile High City of Denver, Colorado! I was looking forward to this particular weekend for several different reasons. Thursday night our great promotions department at Monster Jam had a display for Grave Digger set up at the Pepsi Center for the Denver Nuggets game.
Knowing how much of a big NBA fan I am, Tracey Graf, the event promoter was able to get us some tickets to check out the game versus the Dallas Mavericks after the display! Once the display was over we headed inside to cheer on the Nuggets. We were also joined by Nicole Johnson with Tasmanian Devil and her Crew Chief David Baldwin. Nicole and I were taking jabs at each other during the game since we are both new rookies on the Monster Jam tour this season. I told her The Crazy Bull doesn't take to kindly to the color red, especially a big red target called the Tasmanian Devil!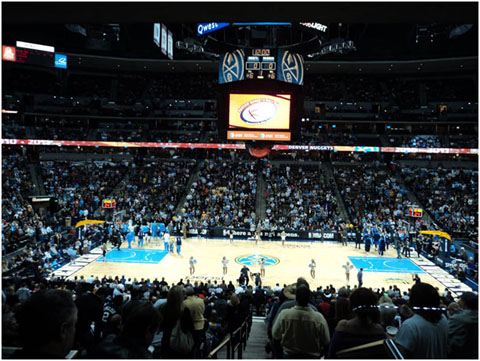 As the game got under way the Nuggets took an early lead going into halftime, however in the 3rd quarter Dallas stepped up their game and started chipping away at Denver's lead, and by the end of the 3rd quarter the Maverick's had taken the lead. As the 4th quarter started Denver was on a mission to make a game of it, and with 2 minutes left they managed to pull within 4 points. With 16 seconds left the Mavericks lead was only 1 point. With the last possession of the game Denver pushed the ball down the court, and with .4 seconds left on the clock Arron Afflalo pulled up and took the game winning shot, and as the buzzer sounded and it was nothing but net! What a great game it was to be able to see live and in person. The capacity crowd at the game gave me an indication on just how loud these Denver fans could be, so I was eager to find out just how loud they could be when Monster Jam took over the Pepsi Center.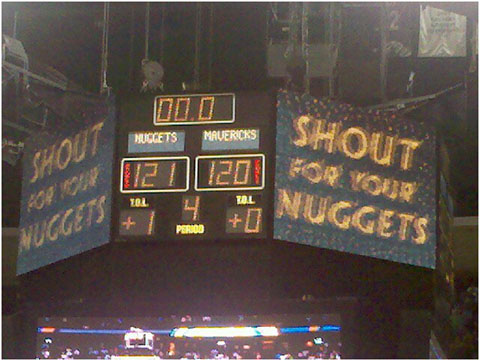 Friday morning publicist, Debbie Fitzgerald, took me for a visit to KBPI 106.7 Radio for an interview with Denver Radio Personality WILLIE B. Willie is also a host of another popular TV show seen on the Speed Channel better known as Pinks All Out. After our awesome interview, it was time to head on over to 850 KAO News Radio for an interview with Dave and Lois of Colorado's Morning News Radio show.
Once I returned to the hotel, Rod, his family, and I decided to head to Castle Rock Outlet mall so I could get a Valentine's Day gift for my Fiancé. Then it was off to check out HobbyTown USA in Westminster, CO. They had a huge selection of Radio Controlled Hobbies and parts. They even had some of the new Traxxas Monster Jam Grinder Trucks in stock!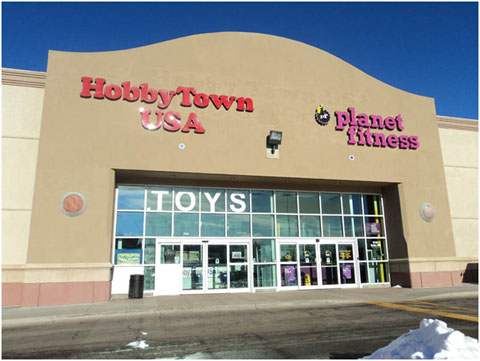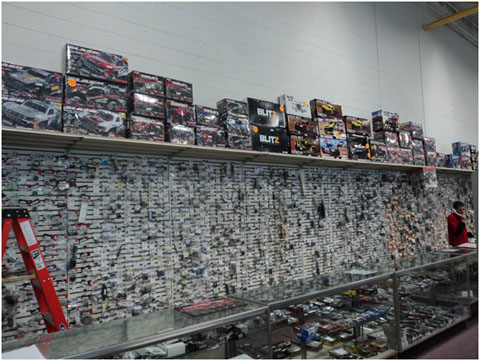 After we had our fill of checking out Denver, we headed back to the Pepsi Center to check out the trucks, and give the crew a hand with anything they needed. Upon checking the RII radio the crew discovered an issue with Grave Digger's engine. It did not sound the way it normally does during cranking, so they decided to take the valve covers off only to find a huge problem. It had two broken push rods and a broken lifter. Not a good find at all. So we thought for a moment of what could be done and finally decided the best course of action for the team would be to just take the engine out of El Toro Loco and put it in Grave Digger since we didn't have a spare engine. I figured we certainly could not let down all the great Monster Jam fans that come out in huge numbers to see the world famous Black and Green Wrecking machine.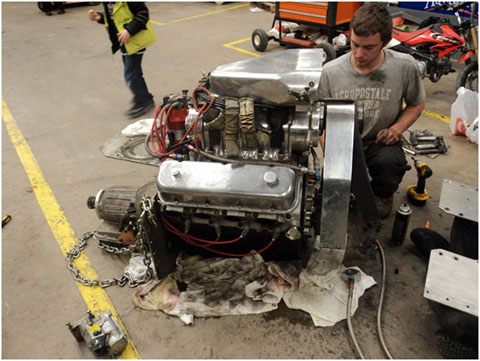 I was a little bummed out at first since I would not be able to put El Toro Loco through its paces for all the great Denver fans, but I started to think of ways I could still participate in the event. Despite not being able to compete, I was determined to support my teammate, and in one way or another El Toro Loco and myself would make our presence known for sure. Travis, Scott and new comer Josh stayed up all night long swapping out engines to have Grave Digger ready for Saturday morning.  By Saturday morning the Monster Jam Staff and I had devised a plan for me to still be able to take part in the Pit Party. Since the Crazy Bull had just gotten a new body, we decided to take some of the crashed body parts from the previous weekend in Fargo, and put them on the safety holds to mark the spot for me to post up and sign autographs and take photos with all the awesome El Toro Loco fans. We took the other body parts and cut them up to be able to give away to some lucky El Toro Loco fans in the stands during the show.
The pre-show festivities included the crazy antics of the hilarious international super star "Sprocket." I was so lucky to be able to participate in a game of musical chairs with the crazy clown as well as some great fans. I also got the opportunity to show off my announcing skills when I get a chance to do some color commentating with announcer Larry Naston during all three shows.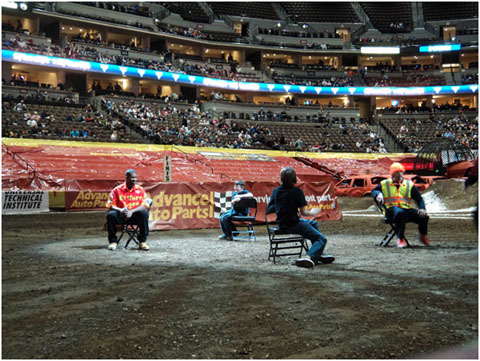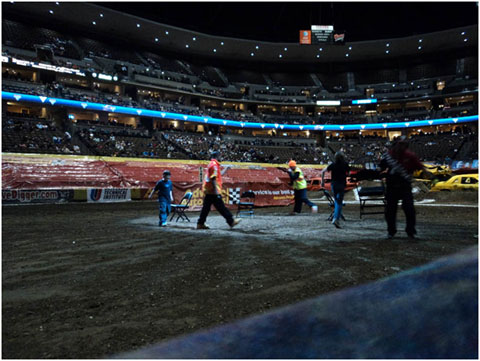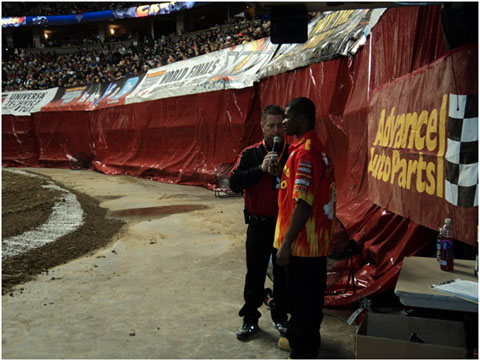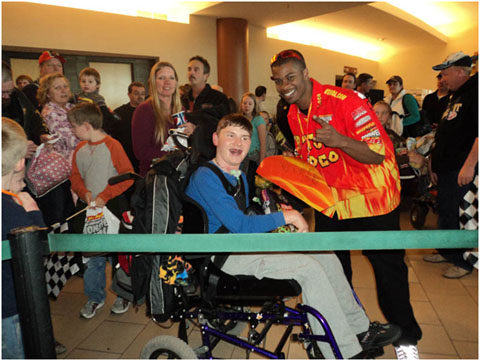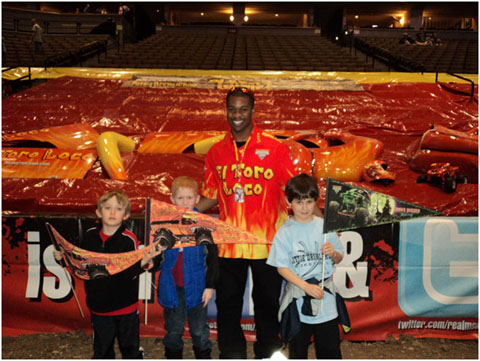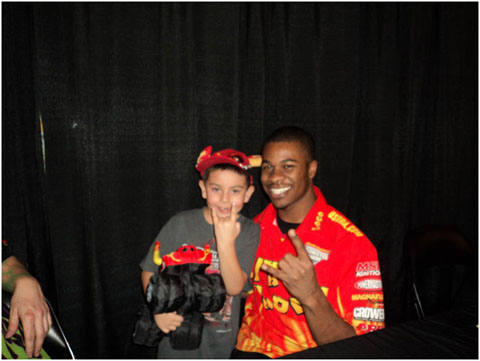 It was cold outside the Pepsi Center, but inside the racing action was red hot.  Fellow Rookie Nicole Johnson in Tazmanian Devil was able to take home racing wins at each of the three shows and my team mate Rod Shmidt and Grave Digger was able to sweep the weekends wheelie and freestyle competitons with the motor from El Toro Loco. Despite not being able to compete, I still had a blast in Denver, and if there is any way I can be fortunate enough to make it back to the Pepsi Center next season with the Crazy Bull, I'll make sure the fans will get to see the Horned Beast and myself at the top of our game! I'm looking forward to my next stop this season in Salt Lake City Utah where Advance Auto Parts Monster Jam Invades Energy Solutions Arena. For more information on this event visit http://www.monsterjam.com/Tickets/2011/02/18/Salt_Lake_City,_UT/
Until then take care,
Bari Musawwir