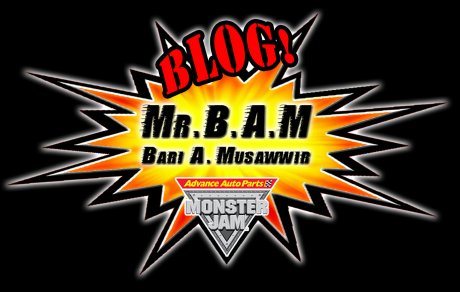 Bari Musawwir had a great Third weekend behind the wheel of El Toro Loco in Sacramento, California and has been kind enough to agree to do a season-long blog for us here at AllMonster for you, the fans. Read what Bari has to say about his third weekend in the 2011 Monster Jam season.
For week three of my Advance Auto Parts Monster Jam rookie season, it was back to the west coast. I set out for North Cal Thursday morning, this time to pay a visit to Arco Arena in Sacramento, California. My cross-country flight arrived Thursday evening in time for me to snag my rental car and meet up with my crew, Scott and Travis over at the arena. When I arrived they already had El Toro Loco already tired up, so I helped them get Grave Digger tired up and clean for early morning media with a few local news stations. We finished up at the arena with time to go sit down and eat before going to pick up Rod Schmidt from the Airport. With 5:00 AM morning media scheduled we made it an early night so we could be up and ready to go to bring the news of Monster Jam's return to the great city of Sacramento.
Before we knew it, it was Friday morning and the alarm clock was screaming at us to get up to make our way to the arena to do some news interviews. The arena staff brought us some awesome doughnuts and coffee to get us moving. We did several quick live interviews which were a lot of fun, especially when you have a crazy team mate making faces off camera just trying to get you to crack a smile, but I was able to stay focused and do some great interviews. Before we knew it, a couple hours had past and we were all done. Lauren Hall, the event promoter was kind enough to take us and a couple of the arena media staff out to breakfast at Mel's Diner afterward. Once we had our fill of breakfast, it was back to the hotel to catch up on some sleep. We headed back to the arena around 2:00 to check things out and see if there was anything the crew needed. We all headed to lunch as a team and made it back to the arena for the drivers meeting around 4:00. As the 7:30 show time approached I hung out in the drivers lounge with the other top notch competitors, featuring Dan Radoni and the Patriot, hometown favorite Andrew Peckham and Tropical Thunder, Nick Owens and Iron Outlaw, Jimmy Creten in Bounty Hunter, and my team mate Rod Schmidt and Grave Digger
Arco Arena is the smallest venue I have driven in to this point, so it offered up a new perspective in making sure you were in tune with the boundaries of the truck and track. The race course was a short head to head drag race style track, where reaction time would be the main deciding factor in the outcome of most of the races. I knew my experience with racing RC trucks off a Christmas tree timing system would defiantly help me out in that regard. After intros, I was out 3rd in the wheelie contest and managed to score a 22, which put me mid-pack when it was all said and done. In racing, Dan Radoni and the Patriot took me out in Round 1 in a photo finish. I was 2nd out in freestyle and just wanted to get used to the tight confines of the arena which proved to be very tight, but I was still able to score a 17. With the first show in the books, I felt comfortable that I could push truck a little harder for Saturday night's show.
Saturday morning, we headed across the street of the hotel to Denny's for a Grand Slam, which was right on time. The weather was excellent during the day, which reminded me of being back in Florida, which is the extreme opposite of what it will be like in a few weeks when I head to Fargo, North Dakota. During the pre-show festivities we got to draw numbers which represented our racing pairings. During this time we also got to do a brief interview with fanatic veteran announcer Scott Heaton on what we like to do besides drive monster trucks. I got to share that I'm a graphics designer and vehicle wrap installer when I'm not racing, and I recently had the opportunity to put a brand new wrap on the former Blue Thunder Ride truck, which made its debut this weekend at the Tampa, Florida Monster Jam. After intros I was determined to get the crazy bull vertical in the wheelie contest and end up tied for 2nd with Grave Digger. I ended up getting paired up with Mike Pappas and Tropical Thunder and was able to take him out in round one. I matched up with my team mate Rod in Grave Digger in Round 2, and he was able to sneak by me in another photo finish. In freestyle I was able to carry more momentum and get a better feel for sliding the truck around to get lined up with the space we had to work with. I ended up with a solid 21.
Once Sunday rolled around for the 2pm Show, I was ready to let it all hang out. I ended up tied for the win in the wheelie contest, with the tie breaker going to Rod and Grave Digger. After that, I was on a mission to put the Horned Beast in the winner's circle in Racing. I was able to take out The Patriot in round 1 and Digger in round 2, which put me in the finals against hometown favorite, Andrew Peckham and Tropical Thunder. We had a little pre-race drama heading into the finals, as the truck lost power to the starter. My veteran Crew Chief Travis Howard, was able to manually jump start the truck, so I could make it to the line, and then again after a successful RII test. Once I was staged, I was focused on getting the hole-shot and when the light turned green, it was hammer down over the cars and across the finish line in a photo finish. Andrew managed to sneak by me in what many said was the closet race of the night. Despite not coming away with the win, I was very happy with making my first final round appearance. This set the tone for freestyle. I was the first truck out with the plan to make the guys that followed me to have to really put in some work to win. I was able to lay down my best freestyle of the weekend with a score of 24. I'll get another chance at my first racing victory again this coming weekend in Little Rock Arkansas, when I get to do battle with 5 other top notch Monster Jam trucks inside Verizon Arena. For more info on my next event visit http://www.monsterjam.com/Tickets/2011/01/28/Little_Rock,_AR/
Until then Take care,
Bari Musawwir