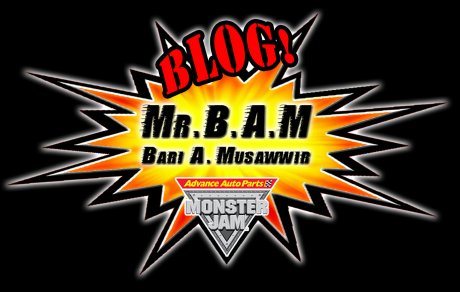 Bari Musawwir had a great first weekend behind the wheel of El Toro Loco in Des Moines, Iowa, and has been kind enough to agree to do a season-long blog for us here at AllMonster for you, the fans. Read what Bari has to say about his first experiences in the 2011 Monster Jam season, and even a victory!
Hey guys and girls, I'm back to bring you my first blog of the New Year. Happy New Year to everyone! The Most Anticipated time of year in the monster truck world has got to be the beginning of January! I know it is for me, but this year was a little different for me in a dream come true kind of way! The first stop for me on my Advance Auto Parts Monster Jam Rookie Season was in Des Moines Iowa at the Wells Fargo Event Center. I made my way from Sunny Orlando to the frigid but welcoming city of Des Moines last Thursday with my Brand new crisp Carhartt Extreme winter coat ready for action (LOL)! Once I arrived, I had to go by the area to check everything out and meet up with the crew. We got Rod Schmidt's Grave Digger tired up and ready for Early Morning media and then it was off to Sambetti's Grill for some food before calling it a night. I found myself up mighty early Friday morning with anticipation on getting situated and acquainted with my brand new office for 2011. I was eager to get El Toro Loco all clean for the Friday night event.
After a quick detail it was time to visit the good folks at 1700AM The Champ radio for an interview. When we got back to the arena, I did a quick news Interview and then got my seat belts and pedals positioned. Thanks to my crew Travis, Scott, and Kelly, we got everything situated pretty quickly. As the 7pm event approached, I felt the butterflies of anticipation were in full effect. It was awesome being able to actually compete in an event with some true veterans in the sport that I have looked up to for a long time like my teammate Rod with Grave Digger and Mike Vaters with Black Stallion. Trey Myers was also there with the awesome Iron Warrior as well as Darren Migues with his new ride, Stone Crusher. We had great time joking around and before you knew it show time was upon us!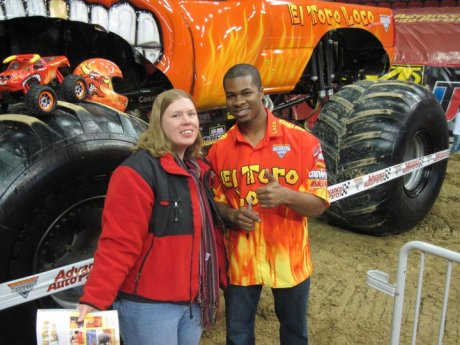 We began the show with drawing numbers for our racing order at center track with long time veteran announcer Scott Rehn. I drew number 2 which meant I would be paired up with my teammate Rod Schmidt and the legendary Grave Digger. After that it was time to climb into our trucks and get ready for intros! As you hear the pre-show festivities going on while your strapped into your truck you have time to think about what you can hope to do during the show, and before you know it its show time!! As soon as I fired up that 540ci Merlin all the butterflies flew right out the window, as it was time to go to work! After the Power Rush introductions I was up first in the wheelie contest. I was able blast off some great wheelies at each of the 3 shows especially since I was first and had a fresh car to hit each time!
Darren and Stone Crusher was able to take the first 2 wheelie contest wins, but by the 3rd show I was on a mission to put the Crazy Bull in the winners' circle. I was fortunate enough to put the big red bull past vertical during Saturday nights wheelie contest to take the win.
After that I was pumped and ready for racing and freestyle. Racing was a lot of fun as I was able to gain more and more practice at the precision that it takes to finesse one of these 10,000 pound beasts through a turn on tacky dirt. By the time freestyle rolled around I was ready to just go out there have some fun! I was able to increase my score each night and by the 3rd show I ended up tied for 2nd with Stone Crusher, While Rod and Grave Digger managed to pull off the only doughnuts of the weekend to sweep the freestyle crowns for the weekend.
I had a great time at my debut event, and I can't say enough for my entire team. My crew guys had my truck in tip top shape. With just the short time I have been in the seat, this truck has felt the best; it seemed to soak up everything I had to throw at it! I want to also thank Eric Krush, a long-time RC racing friend that came out from Chicago to cover my first event in the USA , also thank you to Jason Bryan, and Tyler Menninga for there great photos! And of course I want to thank the fans of Des Moines. Everyone that came through the pit party and Autograph lines were great! I'm looking forward to the endurance weekend of Tacoma Washington next weekend in the Tacoma Dome! 5 shows in 3 days will offer the ultimate test in mental fortitude and performance! For more info on the Tacoma Monster Jam visit http://www.monsterjam.com/Tickets/2011/01/14/Tacoma,_WA/. Hope to see you there!