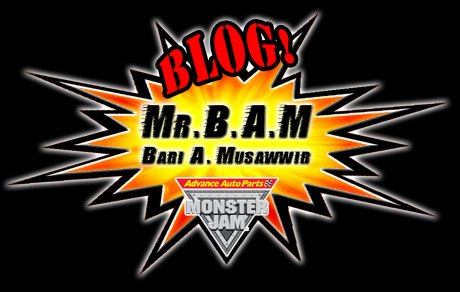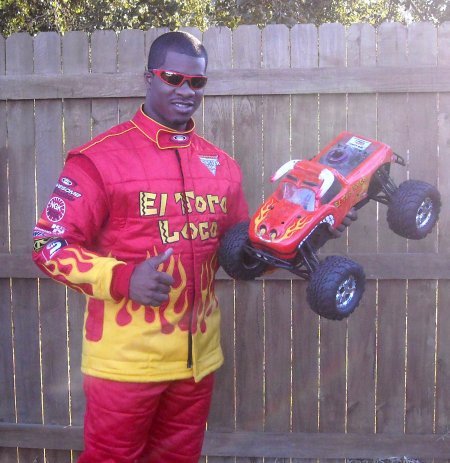 What's up everybody, I wanted to drop by and give you guys an update on what's been going on with me since I made my Monster Jam Driving Debut back in May driving Backwards Bob in Panama. I recently had the opportunity to travel across the border to Guadalajara, Mexico to compete in Monster Jam Freestyle Mania last month. I got to pilot the Big Brown Dog, better known as Monster Mutt. It was the same chassis that Ryan Anderson competed in during the first quarter. Ryan was in attendance also driving Spiderman, so he was able to give me some good tips on the characteristics of the truck. The Freestyle Mania show format was a great opportunity for me to gain some seat time as we competed in a wheelie contest, Maniac Challenge time trial obstacle course, Donut contest, and Freestyle. I had a great time during each of the 4 shows. There is definitely no replacement for seat time when you're a rookie in this game! The fans in Mexico were great, they actually gave the show a standing ovation at the end of Friday night's show. Thanks to the entire crew down in Mexico, I got great feedback and advice and encouragement from everyone!
Most recently I made a trip out to The Digger's Dungeon Racing shop to get fitted in my brand new ISP racing seat. Despite a flat tire within 10 minutes of having my rental car, I made it to the hotel in time enough to get a good night's sleep, so I could wake up bright and early to head to the Dungeon. Once I arrived to was great to see familiar faces from my previous test driving sessions and our RC Monster Truck Race that's held every Memorial Day weekend. I soon realized that this is going to be a very special season for Monster Jam with all the new and exciting builds and projects going on. Master Fabricator Dan Bright assembled my seat, and made sure my head and shoulder restraints were mounted where they felt comfortable to me. There is actually quite a bit into fabricating a mount for one of these seats, especially since each one is tailor made to each driver. Dan had the seat assembled and the mounting base fabricated in no time. It was then time to get the seat mocked up in the truck so we could figure out where it needed to be mounted. Once we had that figured out we moved on to finding the placement for the adjustable shifter mount which went quick. With the new season fast approaching, I definitely gained even more respect for the caliber of craftsmanship that the guys in the shop turn out in such a short amount of time. They are masters at what they do and they play a huge role in the performance and maintenance of all the Monster Jam machines they come in contact with.
I'm really looking forward to getting my rookie season underway and meeting all the great fans as well as interacting with my peers and fellow competitors.
You can catch me at the following Monster Jam events through the first quarter season driving El Toro Loco teamed with Veteran Grave Digger Driver Rod Schmidt. I want to wish everyone a great holiday season and a happy new year!
January 7 & 8 – Wells Fargo Arena – Des Moines, IA
January 14 – 16 – Tacoma Dome -Tacoma, WA
January 21 -23 – ARCO Arena – Sacramento, CA
January 28 &29 – Verizon Arena – Little Rock, AR
February 4 & 5 – Fargo Dome – Fargo, ND
February 12 & 13 – Pepsi Center – Denver, CO
February 18 & 19 – Energy Solutions Arena- Salt Lake City, UT
February 25-27 – Richmond Coliseum – Richmond, VA
March 11-13 – Huntington Center – Toledo, OH
March 18 & 19 – Garrett Coliseum – Montgomery, AL