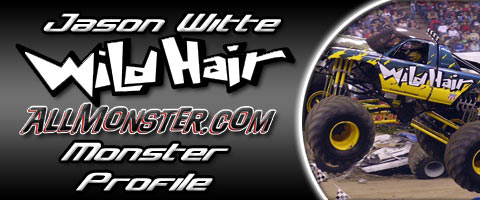 Jason Witte has been in the monster truck business for six years, beginning with his purchase of the Wild Hair truck and name from Marvin Smith. After running a highly modified version of the Wild Hair he bought for a few years, Witte and crew built a new Wild Hair in 2003. After many successful performances, TV appearances, and much more, December 2004 was the time for the Washington, Missouri native to sell Wild Hair (See December's News Archives). The February 19 Monster Jam was Witte's last official show running the Wild Hair name. Known as one of the hardest-running independents on the Monster Jam and many other circuits, Witte has established a reputation as a crowd-pleaser in freestyle especially. Will it be Witte's last show behind the wheel of a monster truck? Robert Haught had a chance to sit down with Jason and find out.
Robert Haught – First off, Jason, what are your thoughts on the last couple of weeks driving Wild Hair?
Jason Witte – I won't lie, it's been kind of sad. It was my last time seeing people at a lot of these shows. I think about all the hard work people have done for me and that I've done personally, and I remember all the friends we met doing this, and a lot of drivers too. In St. Louis, we had a whole group cheering for me since it's my hometown show, and it felt great. It's a sad time, but a time of a lot of great memories, and I'm thankful for that.
RH – What were your reasons for retiring and the timing of the announcement that Wild Hair was sold?
JW – I needed the rest, really. There were a couple of reasons, first and foremost my family. My wife, Julie, and I recently had a daughter, and I want to spend time with her and be there for my wife. Family is important to me. We also have a house that we have been building for a long time, and I need to devote time to that that I haven't been able to because of monster trucks.
A lot of people speculated that my reason for retirement was my health, and that just isn't true. I don't know how the rumor got started, but on that, I want to set the record straight. I injured my neck at a show a long time ago; it was a pulled neck ligament. I rested it for a few months and I feel 100% now; it was never an issue. Ray (Mowery, new Wild Hair owner) was able to make a good offer, and the deal was that I would lease the truck from him until Minneapolis (February 19, Witte's last booked show) was done, then it was his.
RH – Would you consider becoming a fly-in driver, or driving a truck that you did not own?
 JW – Yes, I would. My plan is not to be out of the sport completely, and in a situation like you say, I would love to be able to run the truck harder and not have to worry about money as much. I believe that our truck as it was could have been number one, or very close; it was feeling great. We were fast in racing; I just needed to learn how to control it a bit more. Freestyle-wise, it lands like a sponge, and I always enjoy freestyle *laughs*.
RH – It seems that Wild Hair under your name has gotten a reputation for just that, good freestyle. What are your thoughts on that?
JW – I didn't realize how much the fans were behind me and behind freestyle for awhile, but yeah, it's true. We always put a lot of effort into freestyle, and we're very proud of how we've done. We may not have always had the budget, but the fans were always into the freestyle and I love to do well for them.
RH – How do you feel about the fans who have followed you and Wild Hair through the years, and do you have anything you'd like to say to them?
JW – Well,when I first got into the sport, it was just a cool thing to do, and it was for myself. I've always said that the first year I did it was for myself, but the next five were for the fans. They have been unbelievable with their support, and I want to thank them for that. It became more work over the years, but it got better overall because of the fans; I knew they were behind me all the way.
RH – Have you kept in touch with Marvin Smith (Wild Hair's previous owner) over the years? If so, has he mentioned anything about you and Wild Hair?
JW – I have; he was actually at the St. Louis Monster Jam and told me that I was doing a great job. He also mentioned some things in the future that could happen for him, but who knows, at this point it is all speculation and I do not want rumors started.

RH -I understand that you still have a shop for the truck that you will be keeping. Why?
JW – We are keeping the invitation open to drivers and would like to extend it to them when they are in the Missouri area, or just passing through, to come by our shop if they need anything. We have a metal shop, machine shop, engine shop, and we can do body work and more. My crew guys…I can't say enough about them, they love doing this stuff, and it's been a great deal over the years. They work for free and will do the same for anyone passing through and needing help. We'd love to have them.
RH – What memories of your experiences with Wild Hair stick out to you the most throughout the years, going from first to last?
JW –  I'll always remember the nights at the garage with friends staying up till four in the morning; those were great times. We worked on the new truck like crazy, and it paid off. At first, I thought I was just going to do displays and stuff when I bought the first truck, but it turned into much more, and I wouldn't change it at all. I remember one of my first big shows and first few shows overall, we were in Minneapolis at the Metrodome in 2000, and I rolled over on television. The crowd was going crazy, and that sort of set the tone for me (laughs). Now, the first memory that comes to my mind from this year is the St. Louis show (February 19, 2005). I felt like it was a good run, and I got to do well in front of my hometown fans for the last time. That really meant a lot to me.

RH – Have you gotten any offers or had opportunities to drive for other people yet?
JW – Yeah, I have, and I've been tempted, but right now I want to focus on my house and my family. We had Charley (the couple's new daughter) and it was right before the season started, so I definitely want to see more of her and my wife. When the time comes or the situation is right, I will definitely want to drive again.
RH – How do you feel about your accomplishments in Wild Hair overall?
JW – I feel great about it, especially that we did it ourselves. It was cool with Wild Hair and doing things that way, and it'd be even cooler with a new concept and name that I could build completely on my own, without buying the name from someone. I would want to do something like that as an independent probably,because you can make your own rules and your own schedule.
RH – Thanks for taking time out with us, Jason. Do you have anything else you'd like to add?
JW – I am 100% ready to drive if someone calls and the situation is right. I would like to thank all of our sponsors, they stuck with me the entire time I was driving, and they were great for me. The fans have always been great, and I thank them too. Things don't always end up this well for guys like me, and I'm grateful and feel lucky for what has happened with me. The last thing I want to do is thank my wife and my crew, without them I couldn't have done everything, and they have been nothing but great and supportive.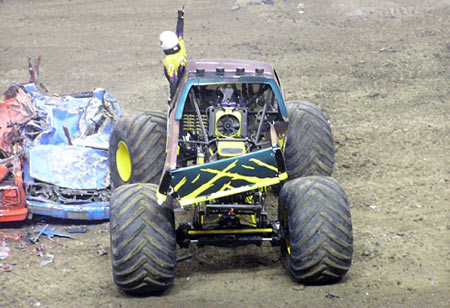 AllMonster.com would like to thank Jason Witte and the entire Wild Hair Racing team for their time and support.