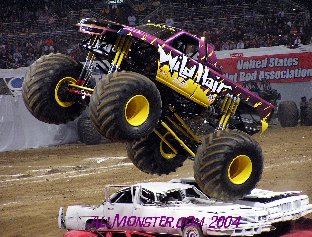 Jason and Julie Witte of Wild Hair racing sent AllMonster.com a press release late Monday evening with the following information on their truck's sale:
"Wild Hair Monster Truck has been sold to Ray and Kim Mowery of Extreme Attitude Racing, which is based out of  Virginia, they purchased the entire operation from Jason and Julie Witte.  Jason wants to thank everyone for their support over the years.  Jason will be driving the Wild Hair truck in the 2005 USHRA winter season.  We would like to give special thanks to the other drivers who have helped us out over the years and we would also like to thank Clear Channel Motorsports, Rich Schaeffer of the Monster Truck Challenge Series, all of our sponsors and especially the Wild Hair pit crew. We wish a successful future for Ray and Kim Mowery and the Wild Hair."
Jason will be driving Wild Hair at:
Pontiac, Michigan January 15
Kansas City, Missouri January 21-23
Indianapolis, Indiana January 29
Houston, Texas February 5
St. Louis, Missouri February 12
Minneapolis, Minnesota February 19
We thank the Witte's for their time and commitment to the sport, and wish them the best of luck in the 2005 racing season.
AllMonster.com is currently being redesigned for 2005 and hopes to be back at full strength by the end of the week. We thank you for your patience.