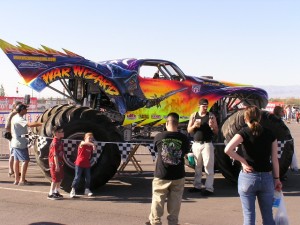 Scott Bryant was kind enough to send us an interview he did with Randy Moore of War Wizard Racing.  We thank Scott, Randy, and the entire War Wizard team for their time.
Catching Up with War Wizard
by Scott Bryant
            As the 2004 season comes to a close, we thought it would be a great time to check in with Randy Moore of the War Wizard team and see how their rookie season in the monster truck industry went.
Randy Moore and his teammate and fellow fabricator, Blaine Kilby may be rookies in the Monster Truck world but they are certainly not rookies to motor sports. The pair have been campaigning a variety of mud racing and drag racing programs for decades. They are perhaps most noted for their efforts in Pro-Mod racing, particularly in the early nineties during the class's infancy. Moore and Kilby built and campaigned the memorable Tosti Asti Spumante-sponsored Lamborghini Countach Pro-Mod machine during the 1992 and 1993 seasons. Moore and Kilby have been friends and teammates for several years and have always built their own machines from scratch, incorporating many of their own innovations.
Moore has kept in touch with several of his friends from his mud racing days, many of which are Monster Truck drivers. A couple of years ago, while at a drag racing event, Randy noticed a Graver Digger truck on display. Having never really paid Monster Trucks much attention before, he decided to see what got fans so excited about them. As Randy began to look over the truck (which happened to be Grave Digger #12), he quickly realized that this was not the type of heavy, cumbersome concoction of heavy equipment pieces and pickup parts that he remembered during his mud racing days. This was a sophisticated racing machine with a custom chassis and suspension with purpose built parts. Randy gained a newfound respect for what monster trucks had evolved into and was starting to realize what people saw in them. Moreover, he began to realize why someone would enjoy driving a monster truck.
Grave Digger driver Gary Porter, an acquaintance of Moore 's, caught Randy ogling the truck and started joking with him that he couldn't be serious about wanting to drive one. Randy's reply was that he'd drive the hell out of one of these things if he got the chance. The incident got Randy thinking and once the wheels started turning, he made up his mind that he wanted to campaign a monster truck. Kilby was also on board with the decision and the two put their heads together to create some ideas. Just as they have always done, the pair set out to create a unique machine with some different ideas they wanted to try.
Moore kept in touch with Tom Meents, having known him from their mud racing days. Once they started to research different ideas and theories, Moore and Kilby decided they liked the way that Tom's Willman-style chassis worked. They liked the handling characteristics of the forward facing engine layout plus how it simplified the drive train by allowing the axles to be ran pinion down without a reversing transfer case. They also liked the concepts of a swing arm suspension like Marty Garza's Extreme Overkill. They decided to combine these concepts along with "space frame" principles, another philosophy introduced to monster trucks by Garza, by which the chassis combines the mainframe, roll cage, and suspension mounts into one rigid structure.
Once they had a basis for their project, Moore and Kilby set out to build a unique creation that not only combined some ideas they had observed but also some new ideas they wanted to try.
Moore and Kilby also chose to confine the structural portion of the chassis within the wheelbase to minimize damage to it in case of a roll over. The fore and aft body pieces were mounted with lightweight structures that could easily be replaced in the event of a roll over. Also, the forward section of the chassis was designed such that the engine cradle could unbolt and allow the engine to be lifted out easily without removing the front shocks. The truck is also built around a relatively small amount of travel with the idea that improved dampening offered by the King dual rate coilovers with King Kong by-pass mounted to the swing arms would soak up the bumps.  Blaine also built a custom set of plate steel axle housings designed around F-106 third members and Clarkplanetaries. War Wizard's 572 cubic inch engine feeds 1460 horsepower through a two-speed transmission and a custom transfer case.
When it came to deciding on a body, Moore and Kilby chose something that was quite different from what monster truck fans are used to seeing. It is also a reminder of their drag racing roots. War Wizard sports a '41 Willys Pro-Mod body similar to those used in drag racing. Because of the exaggerated features designed around aerodynamics, the long, sleek body gives the machine a "no compromise" stance. Moore refers to it as a 2041 Willys instead of a 1941 model because of its modernized features. The paint and graphics also involve some of the most colorful and detailed artwork ever seen on a monster:
Randy admits the design and setup was biased towards racing rather than freestyle. Although their first season was actually quite successful the team had some bugs to work through early on. The shock setup was entirely wrong at their first event and the machine was severely underdampened at their Birmingham , AL debut. A hard landing bottomed out the shocks so hard the engine cradle separated from the chassis at the lower flanged joints and pulled the engine right off the mid-plate, destroying the crankshaft.
The team regrouped with a racing win in Kansas City , then worked through steering problems at their next event. The team replaced their steering cylinders with stronger units so that they would hold up to freestyle as well as racing. They have also experimented with different tire and wheel combinations before finding one that works best with their suspension.
The second half of the season was much improved, with War Wizard taking more racing wins and making fairly regular final round appearances. Moore and Kilby are very happy with their results, especially with the steep learning curve they experienced in the first year out for the team.
The team also worked on improving their freestyle game. Moore has driven several different racing vehicles but says that driving a monster truck has been the most challenging experience in his racing career.
"Your timing has to be perfect," Randy commented when talking about all that goes into taking on obstacles in racing and freestyle. The team has also had to make some alterations to the truck so that it would perform well for freestyle, recently finishing in second place at the Montreal Monster Jam.
Also, the team's ride truck operation has been a constant success at all its events.  The team purchased the old Grave Digger #11 ride truck and has refurbished it into the War Wizard ride truck. Randy claimed the truck was one of the most popular at this year's Monster Jam World Finals.
Moore and Kilby are looking forward to the next season, as they feel they have War Wizard dialed in. The team has recently made some updates to the chassis, which involve relocating a few components for better weight distribution and improve the dampening in the suspension. The truck actually has a rearward weight bias despite its forward-facing engine.
When talking about next season, Moore was excited about the team's second truck that is nearing completion, saying that the new chassis is going to be completely different than the first. While the current machine was built more with racing in mind, the new one will have more consideration towards freestyle. Randy still promises it will be considerably different than what would be considered the norm. The engine will be rear facing, not necessarily to increase rear weight bias but so it can be placed lower in the chassis for a lower center of gravity. The shocks will run from frame to axle and the suspension will have more travel to soak up the harder jolts that come from freestyle. The shocks themselves will be something new. The body will be a truck body but have a nostalgic flare with wild features like War Wizard.
Why would a team would want to build trucks so different? The answer is part of an even bigger, long-term plan. Moore and Kilby deliberately built a truck suited to racing and are building the second truck suited to freestyle.  Once both trucks are campaigning, the team will take all that they learn and apply it to a third truck, which will incorporate the best features from the first and second designs.
"The idea is for the third truck to be the BAD one," Moore said.
Though Moore and Kilby have been busy putting some finishing touches and doing final testing on War Wizard to prepare it for the upcoming winter season, the team hopes to have the second truck up and running soon so that they can use it next season.
War Wizard will be running several stops on the Monster Jam schedule this coming year as well some other series. Moore and Kilby encouraged the fans to check their website, www.warwizardracing.com, to see when they will be in your area.
AllMonster.com thanks Scott Bryant, Randy Moore, and Blaine Kilby for their time and support.