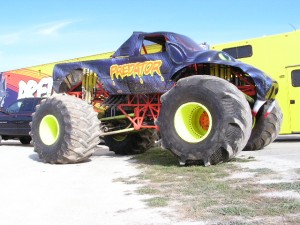 Scott Bryant was kind enough to send us an interview with Allen and Diane Pezo of Predator Racing.
Team Predator Ready for Next Season After Successful 2004
by Scott Bryant
            While attending the Monster Jam event in Nashville , Tennessee , I was able catch up to Allen and Diane Pezo of the Predator Racing team and find out how their 2004 season has been going and what their plans are for the next year.
Allen Pezo is a 21-year veteran in the Monster Truck industry.  While still in his teens, Allen built his first monster truck, Lone Eagle, in 1983.  Allen used a new 1984 model Chevy Silverado 1-ton pickup to garner a body from.  The team had originally planned on using the 1-ton frame as a basis for construction.  However, monster truck antics had already begun to wreak havoc on many OEM framed Monsters so they instead built a custom frame to use as a starting point.  The truck also featured a tilt front end and bed as well as 5-ton military axles and Firestone 66×43 tires.  Allen was one of the first monster truck builders to use Firestone tires instead of Goodyears.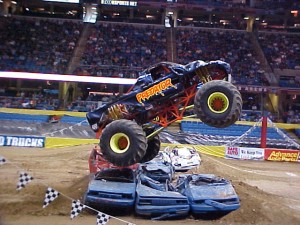 Allen campaigned the Lone Eagle for five years.  During that time he also built the White Knight Ford Ranger monster truck for use at SRO Motor Sports events.  However, demand for the truck was not near as great as it was for Lone Eagle so he eventually sold it.
When the Chevrolet body style changed in 1988, Allen updated his Lone Eagle to the new style and upgraded to planetary hubs to improve reliability.  He also gave the truck a new identity and renamed it Predator.  Since Allen's truck had become so popular, the team even built a second Predator in 1989, which was painted to match the first one.  However, Predator 2 was different in that its frame was painted bright yellow.
The original Lone Eagle body went back onto its original frame and drive train to return to street driving duty.  Allen still owns the truck and although it shows a little age, the truck has been maintained very well.  Allen plans on giving it a fresh coat of paint in the near future.
As monster truck racing became more competitive and technology started to progress from the heavy framed machines, Allen saw the need to make a change.  He built an all-new Predator with a lightweight square-tube chassis and fiberglass body in 1991.  This new Predator 3 also featured an advanced leaf-spring suspension and lighter Rockwell F-106 center sections combined with planetaries instead of 5-ton military units like the older trucks.
Allen raced this truck for a few seasons before upgrading to Predator 4, a tube chassis truck with four-link suspension and coilover shocks instead of leaf springs.  The Predator 3 truck eventually became the first Predator ride truck, which has now been made into the Sudden Impact ride truck.
After using a traditional four-link design, Allen decided to experiment with a recoiling front suspension similar to that being used on other trucks.  Allen built Predator 5, a square tube chassis with this type of suspension but later sold it in favor of a round-tube Predator 6, built by Allen and Dan Patrick.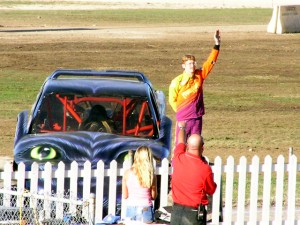 Allen campaigned a multi-truck team through the 1990's and competed both on the USHRA and Special Events circuits.  For a while, he even had three trucks before selling one of them.  In 1993 he first began to use the 3D body style that fans have come to know and love.  Whenever both trucks were at the same event, one would run the 3D Predator body, while the other would run a traditional Chevrolet truck body.  This other truck ran under the name of Hyper Active and later Avenger.
For the 1997 season, Allen bought a new chassis from Dan Patrick and used it to create Predator 7.  Predator 6 became the truck that ran as Avenger.  Allen later sold Predator 6 and bought another Patrick chassis to create Prowler in 1998.  Prowler was created as a twin of Predator so the trucks could travel together and utilize common parts throughout.  Allen has used these chassis to this day refining them along the way with improvements like new-style bypass shock technology.  Allen has also maintained Predator and Prowler's appearance, other than some small changes in the paint scheme so as not to lose fan following (with the exception of running a Dodge pickup body at the early Pro-MT seasons when 3D bodies weren't allowed).
Late in 2002, the Pezos re-purchased Predator 6 and refurbished it for the 2003 season as an additional Predator truck to keep up with demand.  Allen also revived the Lone Eagle identity and ran this chassis with a 2003 Dodge pickup body. After a rollover, Allen repaired the frame and rebuilt the front suspension from its recoil design into a more traditional design that extends from the center cradle.  For 2004 this chassis was also repainted blue so that it would better match the patriotic paint scheme of the Lone Eagle body it often runs.
The team's 2004 season has been very successful.  Diane reported an approximate 80% win ratio in events the team attended this year.  This year has also seen the team battle on a variety of fronts including the USHRA's Monster Jam tour and also the Special Events Pro-MT series.
The team's new ride truck has also had a very busy year.  With its all tube chassis and four-link suspension with Combs Knightstalker shocks, the ride truck acts similarly to today's race trucks.  This makes it very popular with fans as they get to experience the feel of a race vehicle.  The ride truck sports a Dodge Hemi crate engine and unique hybrid axles that combine Ford 9-inch center sections and Rockwell PS-90 steering planetary ends.  Allen says the truck handles very well and could probably be a competitive race truck with a larger engine and drive train.  The truck's popularity has given it a busy schedule into December.
The team is also looking forward to next year and has plans to step up their racing program even more.  Having enjoyed the return of Pro-MT racing this year, Allen is also excited to be running the full Special Events Pro-MT Racing Series next year. There are some exciting things about Pro-MT in the works and Allen wants to be more competitive than ever.
The Pezos plan on running Hemi-style engines in all three of their racing trucks next year.  Indeed Allen has a row of fresh Hemi engines being readied at the Predator shop, two of which are Arias Hemis.  Those of you that follow Tractor Pulling ought to be familiar with the incredible power and low-end torque that these engines provide.  The team has experimented with a new style injection unit similar to those used in top fuel and top alcohol dragsters.  This system increases intake velocities, making the supercharger more efficient.
The team has also done a significant amount of research and development with tires.  Many of you many have noticed that Predator has ran a variety of tires and cut patterns over the last two seasons.  Allen has been trying different setups and evaluating how they have worked in different situations.  Most recently, the team has developed a set of extensively shaved tires for front use and Allen has been very pleased with the results.  He is very excited about the combination he has now and is in the process of obtaining more tires in order to equip all three trucks with similar setups.
Allen has also begun to manufacture his own lightweight, two-piece style wheels.  This design is similar to the design that Rich Cummings pioneered in the early nineties with a few refinements Allen has added.  Allen has even started producing these wheels for other teams at a reasonable price.  Allen can produce the wheels in 28", 32", and 36" widths and can fit any bolt pattern and backspacing based on the customer's needs.
Team Predator's 2005 schedule will be released soon so remember to check the team's website, www.predatorracinginc.com for updates. If they are going to be in or near your area, be sure to go see them in action.
AllMonster.com would like to thank Scott Bryant, Paul M. Harry, and Allen and Diane Pezo for making this interview and accompanying pictures possible.