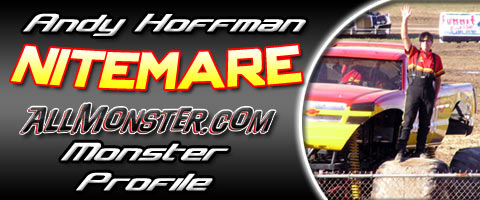 Andy Hoffman got started in monster trucks working for Kirk Dabney, eventually starting out with Steve Hess' Nitemare truck on the Thunder Nationals circuit. Hoffman now owns and runs Nitemare through many changes and has a new truck in the works. We thank Andy for his time and support.
Robert Haught – We hear that there has been a new truck in the works for you. What can you tell us about that?
Andy Hoffman – Well I'm pretty disappointed at this time; it should have been ready in Indianapolis (September 24-26 weekend). We just ran into a lot of little things. When you're fabricating the truck yourself, every little tab and bracket you make yourself. It's time-consuming, especially when you have to maintain the other truck at the same time, so I'm way behind on the new truck. Definitely we'll see it next spring and I may even do a couple of winter shows with it; I'm not quite sure when it's gonna come out.
RH – What changes will be made from the truck you have now to the new one?
AH – It's totally different. I've got 26-inch bypass King shocks with the air springs. I think I was actually the first guy to buy a full set of them. It kind of bugs me that several guys have them now and I've fallen behind on that, but I'm still really happy with the way it's turning out. We kind of copied the Bear Foot chassis (the original round frame design); it's a simple, clean design and I like that a lot.
Right now it's actually got a Dodge body on it. It's painted just like my current truck. That's sort of why I started dragging my feet a bit; I didn't want to bring it out as a Dodge because we've got a Chevrolet motor in it (540 Rodeck). I like to keep the body and the motor the same, so we have a new Chevy body waiting to be picked up now.
RH – You mentioned the winter shows earlier. You did very well on the Monster Nationals circuit. Are you going to be running that series again?
AH – Definitely, we've already got the contract signed and everything's pretty much set. It's gonna be a good season, 14 events I think, so I'm really excited about that. This year I should have won the points; I was really frustrated with that. Going into the last weekend I was ahead two and a half points and just messed up all weekend, so we ended up tying, so this year we're definitely going to try and win it.
RH – Freestyle-wise, you seem to like the reverse jumps. Do you consider that your trademark?
AH – Yeah, but in one way I kind of hate that because I hate to be known just for one move but it's really worked well for me the last couple of years, and it's a lot of fun to do too. It surprises me how much the people like it. It's really easy on me in the seat too because it throws you back into the seat instead of trying to throw you out like a normal jump. People think it hurts and generally it doesn't. It's fun to do and pretty easy on me. One of the things we're going to try and do on the winter tour this season is step the racing up. I didn't win any events but I got into the finals several times, so I'd like to get a couple of wins in the racing too.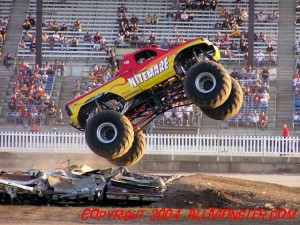 RH – Do you have any plans for expansion when the new truck is ready? What will happen to your current truck?
AH – I've tried not to think about that a whole lot because I take the winter tour so seriously. I started driving in the winter time on concrete, so I really feel comfortable with that and like those shows a lot. I want to keep the coilover truck for this winter because I'm comfortable in the truck and like I said, I take those shows seriously. I think the new truck will be better for the long outdoor tracks, so we'll see how that works.
RH – What are your thoughts on a race series like the proposed MTRS?
AH-I think it would be great to have, but I have not been notified or had contact with any of those people. If it happens, that would be phenomenal but we'll see what happens. Our industry needs something like that; I hope that things like this can expand and do well. For a "small guy" like me to go out and torture my stuff like I do, we need a points fund for a series. We're trying to gear up for something like that; I'm buying more equipment and of course the new truck and everything too. We've put a lot of money into that and I'm looking into buying a new trailer as well. We're definitely hoping something does happen.
AllMonster.com thanks Andy Hoffman for his generosity and support.