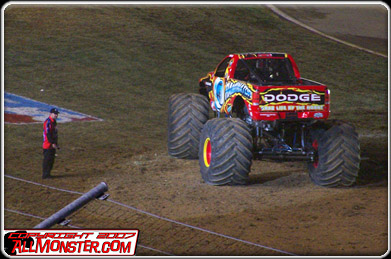 It was a wild night at the Kentucky Speedway in Sparta, Kentucky as the Major League of Monster Trucks tour rolled in with one of the most memorable events of 2007. The drama started early as Mark Hall's Raminator expeienced some mechanical grimlins causing him to qualify 16th. Hall fought back to take out David Smith in the first round and worked his way through the bracket to meet up with Daron Basl in the finals. The race was close on the gigantic Z-shaped course and Hall would narrowly defeat Basl's Nitro Hornet in a come from behind photo finish win over the final jump.
VIDEO OF THE FINAL ROUND RACE!
Freestyle saw the Koehler brothers dominate early with both Jim and Steve (who was a fill in for Hot Tamale) flipping over to end their runs. In the end it would be Mike Hawkins taking the freestyle win with a high speed, high flying run. Thanks go out to Josh Rhodes for covering a great event in Kentucky.
Podcast: Play in new window | Download