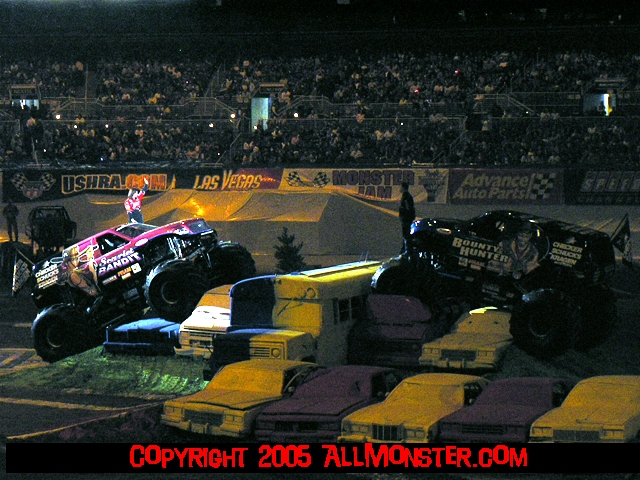 2Xtreme Racing (Team Bounty Hunter/Scarlet Bandit/Iron Outlaw) has sent us the following press release on the team's qualification for the Monster Jam World Finals; we thank them for their time and effort:
For Immediate Release
March 1, 2005
Checker Schuck's Kragen Bounty Hunter and Scarlet Bandit a Dangerous Duo.
Both Trucks Qualify for Monster Jam World Finals in
Las Vegas
Phoenix, AZ – In an exceptional, but challenging year for the Checker Schuck's Kragen backed team, both Jimmy and Dawn Creten have driven their big Ford Expeditions to numerous Monster Jam series wins.   Their stellar performance has allotted both trucks a birth in the sport's most prestigious event – The Monster Jam World Finals in Las Vegas .
For over two months the team has criss-crossed the country racing in Tacoma, Reno, Phoenix, St. Louis, San Francisco, Sacramento, Boise, Detroit and twice in Houston.  In 17 events the team has captured an impressive nine racing wins, numerous final round appearances and laid down freestyle performances that brought 50,000 people to their feet.  The sold out Sam Boyd Stadium in Las Vegas is their final destination, where they will compete for the World Racing and Freestyle Championship in front of 36,000 people from all fifty states and nine countries, as well as millions more watching at home on SPEED Channel.
This marks the 4th consecutive trip to the Monster Jam World Finals for Jimmy and the Bounty Hunter.  While Dawn inherits the role of rookie, both are top contenders for victory.  "The 20 truck field will really make things interesting this year, I'm excited to have finally made it in and I can't wait to get some practice runs on Friday. The boys better watch out this year!" said an excited Mrs. Creten on Monday.  Jimmy is the only driver besides former champion Tom Meents to see the Final round more than one time.
"What makes the World Finals so cool is the fans from all over the country that we see at other events.  Our fan base grows by leaps and bounds every year, it really is amazing" said Jimmy Creten on the event.  "We've come so close on more than one occasion and if all goes well, this will be the year we get the job done."
For more information on the United States Hot Rod Association and the Monster Jam World Finals please visit http://ww.ushra.com .  For information on Bounty Hunter, Scarlet Bandit and Iron Outlaw visit our website at http://www.bountyhunter4x4.com or http://www.scarletbandit.com.