So far 2015 has been an interesting year for the monster truck industry, with a number of ups and downs. Few things generated as much buzz going into the new year as the announcement of the Fox Sports 1 Championship Series from Monster Jam. The series put 16 trucks together to compete over the course of nine weeks with four automatic qualifier positions into World Finals XVI and a championship trophy on the line. For Monster Jam, it would be the first points series in over a decade, which led to much discussion and anticipation about how the season would unfold. There would be many story lines played out over the nine-week season, which made for one of the most interesting first quarters in some time. We decided to take a look back to the Winter and provide our thoughts and analysis on the Fox Sports 1 Championship Series and the events that took place.
Never Count Out Neil Elliott
After the fourth week of the FS1 Series, Neil Elliott was on the outside looking in as he sat at 1 point in the standings. Elliott claimed his first point of the season with the fastest qualifying time, but couldn't break through to get the racing victory. Tough breaks, bad bounces, and one could make the case for less than favorable freestyle judging had kept Elliott and Max-D from picking up valuable points on the early leaders. While Elliott had claimed a point in Indianapolis, the night ended on a sour note as they would finish dead last in freestyle with breakage after just one jump. It looked like "Lady Luck" just wasn't on their side for this season. Just one week later, Elliott came out guns blazing in St. Louis and put himself right into the hunt for the title.
Despite being under the weather all day in St. Louis, Elliott composed himself enough to get behind the wheel of Max-D. A fifth place qualifying effort matched Elliott against Charlie Pauken and Grave Digger in Round One. Elliott started his march through the bracket there, as he improved on his qualifying time by 0.75 seconds to defeat Pauken. He went on to defeat Damon Bradshaw and Monster Energy in the semi-finals with an even faster time to face off with points leader Linsey Weenk and Lucas Oil Crusader. Elliott wasn't to be denied, as he laid down another great pass and handily defeated Weenk for the racing win. The win added two more points onto his season total and made the competition well aware that Elliott was far from out of it. As the first truck out in freestyle that night, Elliott nearly did the unthinkable and came up just short of winning the competition as the first truck out. He set the bar high as the first driver out and delivered a spectacular performance with some great air, great momentum, and even transitioning a save right into a backflip in bonus time. Only teammate Chuck Werner and El Toro Loco would top Elliott's efforts in the judges' eyes on that night as they claimed Freestyle victory, although you could easily make a case that Elliott's performance was worthy of the win.
As the old saying goes "Don't Poke The Bear," and the rest of the FS1 Series field woke up the proverbial bear known as Neil Elliott in St. Louis. Elliott went into Anaheim the following week on a tear, dominating the racing bracket by defeating tough competitors in Charlie Pauken, Dustin Brown (Monster Mutt), and Donald Epidendio (Titan) on his way to the trophy. He followed up the stellar racing performance with arguably the best freestyle performance since his legendary Orlando 2012 freestyle. In just three weeks, Elliott went from a last place tie to leading the series with momentum on his side.
The following event in Arlington took an unfortunate turn for Elliott's championship hopes, as he would be sidelined due to illness, opening the door for the competition to gain ground. Damon Bradshaw did just that by scoring three crucial points, taking the fastest qualifying time and racing win to take the points lead by one. Dustin Brown also gained ground by picking up two more points of his own with a freestyle win.
The competition really turned up a notch the following week in Detroit as Elliott returned to the driver's seat. Bradshaw claimed the qualifying point early to add to his lead, but Elliott wasn't about to let him add two more in racing. The pair faced off in the semi-finals with the most controversial race of the year, as the two collided after the first jump resulting in Bradshaw spinning out while Elliott would drive on to win the round. Bradshaw was visibly upset but the officials didn't call any penalties which meant it was a good win for Elliott. The finals once again matched Elliott against Pauken, and once again Elliott would take the victory, adding two more crucial points to his season total and tying him with Bradshaw for the overall standings lead. Brown tried to keep pace with Elliott and Bradshaw by taking his second straight freestyle victory, putting him just one point behind and within striking distance as they headed to Syracuse for the final event.
Syracuse got off to a rough start for Elliott as he bobbled in qualifying, putting him in tenth place and out of the racing competition and into the obstacle course. As the last driver out, Elliott did what he needed to do by putting together the fastest time and getting the crucial single point for the win. Meanwhile, the door was wide open for Bradshaw to pick up two points in racing if he could pull off the racing victory, but his night was cut short in round one after a spectacular rollover coming to the finish against Dustin Brown. With Bradshaw going out in racing, it would mean one less challenger to deal with, as Brown still had a chance to steal it away. Unfortunately for Brown, he would fall to Bari Musawwir and Zombie. When the dust settled at the Carrier Dome, it would be Neil Elliott and the crew from Paxton standing tall as the series champions. It was a well-deserved accolade for one of the sport's most talented drivers, who despite many wins and amazing moments over the years, somehow flew under the radar amongst today's elite drivers. While he may not have shown his true desire to win to the public eye, Elliott was driven and determined to take this championship all season long. He is a true competitor and proved beyond a shadow of a doubt that he belongs in the World Finals.
Damon Bradshaw Unleashed The Beast in 2015
If you look at the FS1 Series as a whole you can make the case that Damon Bradshaw was the most consistent performer on the series. Bradshaw was an obvious threat to win every time he pulled onto the track and proved he's a championship caliber driver and fierce competitor in Monster Jam. The former two time Supercross Champion was known as the Beast From The East in his two wheel days, but he's also a beast behind the wheel of a monster truck, with several great events on the tour. He was consistently fast in racing as the fastest qualifier five times to go with two racing victories.
While he may not have won any of the freestyle competitions on the FS1 Series, Bradshaw put together some awesome runs over the nine week season. With freestyle scoring being subjective, one could make the case that Bradshaw was deserving of freestyle wins multiple times but the scorecards didn't go in his favor when he needed them to. No matter how the scoring played out, Bradshaw showed he was willing to go as big and as wild as any other driver with some of the biggest wow moments of the season. Crew chief TJ Tripp had the Monster Energy truck running spectacularly all season and gave Bradshaw one of the strongest running trucks week in and week out. One thing is for sure, if Bradshaw gets put in the FS1 Series again for 2016, he has to be one of the favorites to win the championship next year.
More Than Just A Crew Chief | Dustin Brown is the Real Deal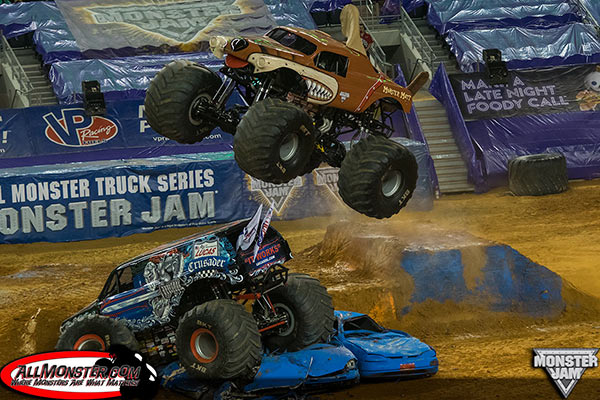 For the past several years when you said the name Dustin Brown to monster truck fans, they immediately thought of him as Dennis Anderson's long time crew chief. Now three years into his driving career, Brown has made a statement that he's a monster truck driver and not just a crew chief. While Brown had shown flashes of brilliance in Wolverine and Iron Man, he hadn't quite broken through with victories on the big stages just yet. As the driver of Monster Mutt on the FS1 Series he was set to get plenty of opportunities to do so, and he did just that at the first event in Houston. Not many expected Brown to be the points leader after the first event, but he took advantage of his opportunities, starting with the obstacle course win. On a night when many seemed to be off their game at the first event of the new year, Brown delivered a great freestyle performance and stole the victory which launched him into the points lead.
The early success put Brown on the radar of the competition and he strived every week to stay in the hunt for the Championship as he was determined to not only qualify for the World Finals, but take the series title. The Obstacle Course competitions provided him with two valuable points on the season, as he took advantage of his off nights in qualifying. Brown wasn't a slouch in racing either, with a final round appearance in Indianapolis. When it came to freestyle though, there was no doubt that was where Brown shined his brightest. Week after week, Brown pushed himself to improve and go as big as the competition, and he was one driver who wasn't shy about hitting the backflip ramps. In Arlington, he put himself back into Vegas contention with a freestyle win, then into serious title consideration by following that up with arguably his career best freestyle by winning in Detroit. While he may not have won the title this year, he proved that he's a real threat to win at any track, and established himself as a driver.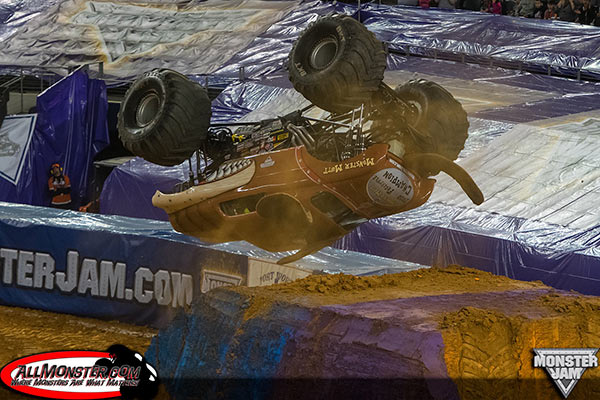 Momentum is a Mysterious Thing
Just like other sports, momentum can be just as mysterious and fickle in monster trucks. So often championship teams hit their stride at the right time and carry their momentum into the playoffs, while losing teams just can't seem to find it and struggle to improve. For whatever reason momentum seems to come and go without any warning. Take the season of Linsey Weenk, for example. After a down weekend in Houston, Weenk dominated Atlanta by doubling down with the racing and freestyle wins. He followed that performance up with another racing win in Tampa, which gave him the points lead and made him the early season favorite for the title. As the series headed to Lucas Oil's backyard and home stadium in Indianapolis, it seemed like a prime opportunity for Weenk to carry that momentum and run away with the championship. Instead Indianapolis turned into a rough night for Weenk, with a round one exit in racing and an early rollover in freestyle.
For whatever reason, Weenk never regained that momentum no matter how hard he tried. While he cracked the final round two more times on the series, he couldn't break through with another win or fastest qualifier spot. In freestyle he delivered some good runs, but seemed to be lacking the spark to separate himself from the field and pick up another win. Weenk nearly pulled off another freestyle win in Syracuse, but Charlie Pauken and Grave Digger would eke out the win by two points and keep Weenk at just six points. After Tampa it looked as though Weenk would be a lock for the top four qualifying spots for Vegas, but after Syracuse he finished the series in sixth place. It was a surprising result considering Weenk is one of the strongest racers in the game, but the competition stepped up and shut him out for the remaining six events.
Raw Talent and No Fear | Steven Sims is Exciting to Watch
Steven Sims might've been the most exciting driver to watch week in and week out on the FS1 Series this year. We've written about the up and coming driver before, and he's proven himself to be a rising star in the sport. Despite limited seat time, Sims was given a huge opportunity to prove himself on the big stages this year and wasn't afraid to take chances while going for the win. The easiest way to sum up his driving style is with one word: aggressive. The youngster doesn't know how to be conservative behind the wheel, and he's not afraid to ride the ragged edge or go over it for that matter.
While the year got off to a rough start in Houston, with rollovers in both qualifying and obstacle course, he showed he was willing to put it all on the line to be competitive. Atlanta saw a short but exciting freestyle performance that looked promising before a bad bounce sent Sims and Hooked into a wild rollover. A week later however, Sims broke through with his first career Monster Jam stadium freestyle victory in Tampa.
After showing he was capable of winning on that level, Sims continued to give everything he had week in and week out to try and claim another victory. While he didn't pick up any more wins, he thrilled crowds with several spectacular runs on the season, most notably his performances in St. Louis and Arlington. When it comes to freestyle, you can almost always count on at least one wow moment out of Sims. Whether it's big air, big saves, or big crashes, you'll stay on the edge of your seat watching him as he hits the track. He's willing to push himself and the truck to go as big and just as hard as anyone else. If Sims continues to get more seat time, and can run as hard as he does, he'll remain a driver to watch for in the future.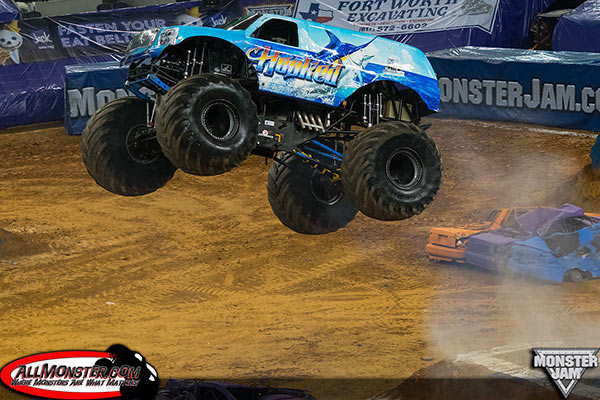 How Can the Series Improve in the Future?
While the Monster Jam Fox Sports 1 Championship was a welcomed change to the Monster Jam landscape, there will always be opinions on how to improve things for the future. One of the biggest topics of discussion on the series this year was the points scale. Many feel the system is too basic, only awarding points to the winners without regard for consistency. Some of the drivers echoed this sentiment when they found out the points scale. While we understand the intent of keeping the points very simple and easy to understand, they've made them too simple. Many weren't fond of giving the Obstacle Course winner a point while second place in racing earned zero points. The scale does seem a bit lopsided to a traditional motorsports fan, but monster trucks are hardly a traditional motorsport.
Another point of contention is fan judging for freestyle. This was a hot topic throughout first quarter, and not just on the FS1 Series. While Monster Jam has tried to encourage transparency and fan involvement when it comes to the scoring, it has led to some question over the legitimacy of results. To present the series as a legitimate championship, the freestyle scoring ideally would be in the hands of well qualified and knowledgeable judges. Unfortunately the fans that get selected to be judges aren't always fitting of that criteria.
While the series was great to follow and made for an interesting first quarter, it feels like nine events just isn't enough time for a championship series. With the traditional first quarter structure, it would be difficult to extend the season considering the World Finals are typically held at the end of March, but a longer season coupled with a better points scale could make for a more exciting series to follow. With that being said, we applaud Monster Jam for taking a chance and trying something different.