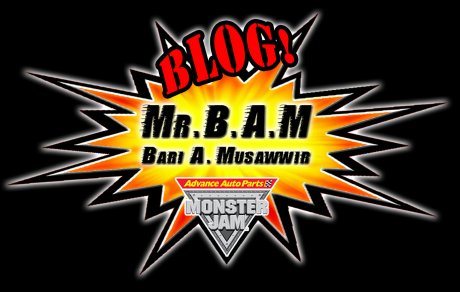 Bari Musawwir had a great Second weekend behind the wheel of El Toro Loco in Tacoma, WA and has been kind enough to agree to do a season-long blog for us here at AllMonster for you, the fans. Check out what Bari has to say about the long five show weekend in Tacoma.
With Advance Auto Parts Monster Jam week one under my belt, it was time to set my focus on my biggest event of the young season. Tacoma, Washington's Tacoma Dome was the next stop for El Toro Loco and I. I arrived Thursday night, and met up with my teammate Rod Schmidt, and Crew members Travis and Kelly. We went to Dinner as a team at good ole Outback Steakhouse. I soon realized that it was going to take some time to adjust to the 3 hour time change here on the west coast while we were eating at midnight on east coast time!
Friday morning I was up early for some morning media and radio phone interviews. With the first of five shows approaching I set out to make a few adjustments to my seat belts and shifter position. We moved the shifter forward about an inch for a better reach. We also moved the center belt down so I could get strapped in as tight as possible.
Due to the Atlanta Falcons playoff game being on Saturday, the Monster Jam event at the Georgia Dome was rescheduled for February 12th which meant the Tacoma fans were in for a real treat as the super stars that were supposed to be in Atlanta made a special appearance in Tacoma. Lupe Sosa and his Advance Auto parts Grinder, George Balhan and Mohawk Warrior, Linsey Weenk in Lucas Oil Crusader, and Chad Fortune in Superman were added to the lineup. With those heavy hitters in the house along with Jimmy Creten's brand new super fast Bounty Hunter, Tony Farrell and Grave Digger The Legend, Charles Benns in the new Monster Mutt Rottweiler, Rod Schmidt in Grave Digger, Dan Radoni in the Patriot, and Andrew Peckam in Tropical Thunder and Nick Owens in Iron Outlaw, Barry Parkin in Western Renegade and home town favorite Rodger Sidell in Captain USA, this turned out to be the biggest event of the season for me and El Toro Loco. With a five show weekend ahead of us, I knew this would be the greatest opportunity to get as much seat time as I could. I was pretty excited to watch and learn from all of these outstanding veteran competitors. Master chassis builder/fabricator/driver Paul Cohen was also in the house to help any of the teams who may have needed help thoughout the weekend. Paul also gave me some great driving advice throughout the weekend, as he was able to analyze what I was out there doing in the driver's seat! That was much appreciated! Thanks Paul!
As the Friday show approached I actually felt pretty calm, cool, and collected. I definitely felt like I gained some confidence and comfort since the opening weekend in Des Moines. I was paired up with George in Mohawk Warrior in round one. He took me out by about a truck length but I was happy with my pass for the first time on the track. After that I was able to make some mental notes as I watch how everyone else was tackling the good size Chicago Style course. Jimmy and Bounty Hunter went on to win racing over George Balhan and Mohawk Warrior in a great race.
After Racing I set my mind set toward freestyle. I was the second truck out and decided to hit the back side of the racing lane since it was a nice fresh car, and it sent me straight up past vertical, reminiscent of last weekend's wheelie contest win. That got my adrenaline pumping and I was able to put together a solid run, scoring an 18 to set the pace. I was in the lead for a few trucks until Nick Owens in Iron Outlaw came out to put on a wheelie clinic with all that big 2-Xtreme racing horsepower. Everyone put in great runs, but Jimmy Creten was able to edge out the huge air from Tony Farrell for the double down win!
With Friday nights show in the books, it was time to prepare for the two shows on Saturday. I was paired up with Creten in round one of the afternoon show. Knowing just how good Jimmy is, I wanted to see how far I could push the truck while still just running my own race. He ended up edging me out by about a tire, but I figured if I was that close to him, I might have a shot at being the fast loser, and sure enough when round one was over veteran announcer Greg Whitacre came over the mic and said El Toro Loco was coming back as the fast loser. Wow, what a confidence booster that was. I was pumped and ready for round 2 where I faced off with the other 2-Xtreme racing truck, Nick Owens in Iron Outlaw. I managed to lead the race until the last turn when the back end of the truck washed out. I was trying to correct it and still maintain the lead, which caused me to hit the jump toward the finish crossed up under power. I knew once I hit the ramp I was in trouble, and before I knew it I landed sideways and was on my lid in the blink of an eye! Thanks to all the great safety equipment we use and the awesome ISP seat the roll over didn't hurt, but the crazy bull lost a horn in the process! Thanks to my great crew, and the tech officials they were able to get the truck inspected and fix the body damage in time for freestyle. I was able to come out and do some good slap wheelies, doughnuts and big air to score a solid 17.
After the post show autograph session, it was time to prepare for the Saturday Evening show, where I would be Paired off with Linsey Weenk and the Lucas Oil Crusader in round one. I ran a good race, but Linsey was on a rail. After that I set my sights toward freestyle. I came out second and had a great run going, and was just starting to get into a rhythm, until the transmission started slipping. I pulled back into the pits with a score of 13. My awesome crew guys, Travis and Scott were able to diagnose the problem, and had the truck back to 100% shortly after the show. The transmission got hot, because the right rear wheel tether started dragging, putting a big strain on the trans, but with a check of the transmission pan, a fluid change, and a wheel tether adjustment, we were back in business! That's a true testament to how bulletproof the 2-speed Coan transmissions are to be able to take that type of abuse and keep on ticking!
Sunday Morning marked the last day of shows in Tacoma, so I definitely wanted to make the most of my final day for myself, the fans, and the crew. I faced off with Mike Pappas in Tropical Thunder in Round one. I was able to take him out, for my first racing win of the weekend. In round two I took on Tony Farrell and Grave Digger The Legend. He beat me across the finish line, but did not get both front tires up the ramp and was asseessed a five second penalty, handing the win to me. On to the semi finals I went versus the super fast Linsey Weenk, and the brand-new Lucas Oil Crusader. Linsey took me to school, but I was happy with my run. It felt smooth, and I was happy to make it to the final four in this field of outstanding trucks and drivers. Linsey went on to beat The Patriot in the finals! After the sweet Megasaurus show and intermission, it was time to Freestyle. I was able to study some video from the previous nights to see where I could improve, so I set out with a game plan. I was able to carry more momentum from obstacle to obstacle, and really pull off what I felt was my best run of the weekend up to that point.
With a good showing in the afternoon show, it was time for the fifth and final show Sunday evening. I raced Dan Radoni, and The Patriot in round one, and in a photo finish he was able to eke me out! After that I was really looking forward to the final time I would freestyle in the Tacoma Dome. I went out with the same game plan as I had in the afternoon show, and It worked out great once again. I was able to pull off some great slap wheelies, big air, doughnuts, and keep it on all four's! I ended up scoring an 18, but regardless of the score, I had a blast and the crowd sounded like that enjoyed it also! I can't thank my crew and the tech officials enough for the job they do! It is a true team effort to make it through a five show stadium weekend, and everyone did an outstanding job! I'm having the time of my life, and I'm very grateful and thankful to have this opportunity! I hope I can inspire some people to stick with their dreams just as I did, because I'm walking talking proof, that if work hard enough to achieve a goal in life it just might come true. I'm looking forward to this weekend back on the west coast in Sacramento California! For more info on the Sacramento Advance Auto Parts Monster Jam visit http://www.monsterjam.com/Tickets/2011/01/21/Sacramento,_CA
Friday round one vs Mohawk warrior http://www.youtube.com/watch?v=Zc8JBUWs6nU
Friday night freestyle http://www.youtube.com/watch?v=j14KeSddBws
Sat afternoon freestyle http://www.youtube.com/watch?v=-ZciwpRzEMs
Sat afternoon roll over vs iron outlaw http://www.youtube.com/watch?v=nhpQElcV9TI
Sat afternoon freestyle http://www.youtube.com/watch?v=SOsnDnu64TE
Sunday night freestyle http://www.youtube.com/watch?v=E7Gat5wAkL4