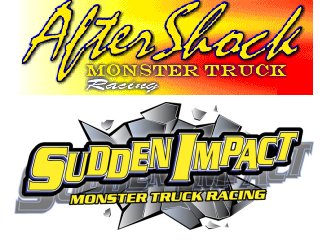 AllMonster.com is extremely proud to announce the continuation of one sponsorship and the beginning of another. Brandon Lagarde's Sudden Impact Racing has signed on to sponsor AllMonster for the second year in a row. Be sure to check out their web site, and be on the lookout for some exciting changes to that soon!
In addition, Bob Robbins of AfterShock Monster Truck Racing has partnered with us for their first year of sponsorship. Bob is looking to sell his current chassis as a turn-key deal, and will have his new race truck ready for the beginning of the 2007 season. If interested, call (716) 481-5130. We thank both teams for their continued support!
Finally, a new design for the site is on the way, as are designs for AllMonster affiliates Devastator and  Stone Crusher! Stay tuned, and thanks for visiting AllMonster.com!